Adams CCF Appoints Contingent Commander and Senior Cadet
---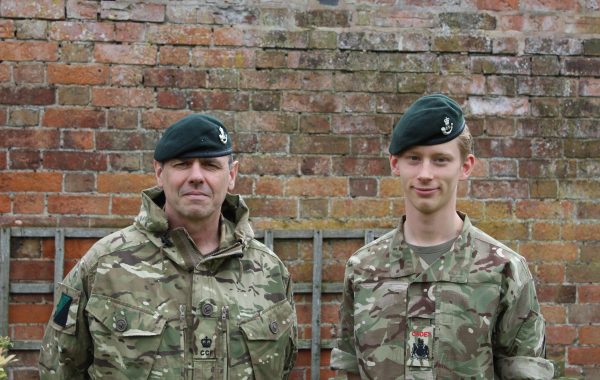 We are delighted to introduce our CCF's new Contingent Commander, Major Frankie O'Connor and Senior Cadet, Serjeant William Dally.
Major O'Connor served in the army for 35 years. After entering His Majesty's service aged 18, as a private soldier with the Irish Rangers, Major O'Connor was later commissioned and served 12 years as an officer.
His ties to Haberdashers' Adams and Shropshire are strong. Having been posted to Tern Hill Barracks, his son joined Adams as a boarder. ON Frank O'Connor, class of 2016, is now an English teacher in Doncaster.
Major O'Connor now lives in Newport and owns Hey Judes Music Shop. Music has always been a passion and one of his aims is to get the Adams CCF Marching Band back up to full operational strength in time for Remembrance Day.
The Contingent Commander role is an honorary role and one that Major O'Connor is passionate about.
The tradition of cadet units in schools goes back over 150 years to 1859. In 1948, the Combined Cadet Force was formed. There are CCF contingents in over 500 secondary schools and Adams is proud to have had a unit from 1955.
Although based on the ethos of the Armed Forces, the CCF isfocused on helping young people to develop and reach their full potential by providing challenging, active, exciting and adventurous activities. The CCF is an educational partnership between the school and the Ministry of Defence and the aim is to enable the development of personal responsibility, leadership and self-discipline. Major O'Connor says: "The CCF is a youth organisation. It offers a cadet the opportunity to develop in confidence and feel comfortable standing out from the crowd. It has the potential to draw a person out that the classroom cannot always achieve."
Boys can join the CCF in Year 8. The first year is a foundation year after which the boys choose to follow the Army or RAF pathway. The CCF currently has 140 cadets which makes it the largest extra-curricular Haberdashers' a grammar school with state boarding.
A member of the Haberdashers' West Midlands Academies Trust option at Adams. To recognise this, a new student leadership position of Senior Cadet has been created with Serjeant William Dally awarded the role for 2023/24.
Serjeant Dally has been a cadet for 5 years, unusually spending time in both RAF and Army Sections. He says "I never planned to join the CCF, but after a couple of taster sessions, was drawn into the adventure!
As an NCO, my role has shifted of course, and now my priority as Senior Cadet is planning the program of activities that Adams' Cadets take part in. I'm really looking forward to shaping the role into a force for good for the Contingent."
Last year Serjeant Dally was appointed Her Majesty's CCF Lord Lieutenant's Cadet for Shropshire. It was a significant year to be in the role, with the state funeral of Queen Elizabeth II and coronation of King Charles III. Serjeant Dally adds: "This year has also been a big year for Royal visits to Shropshire; I have met and escorted both the Queen Consort and the Duchess of Edinburgh on separate occasions. Whilst it is eye opening to see the historic rituals of the nation from an inside perspective, the most important aspect of the role has been building links between numerous voluntary organisations and the CCF at Adams. I look forward to handing the CCF LLC role to (hopefully) another Adams' Cadet."
We are looking forward to our Biennial Inspection, Y8 Passing Out Parade and a taster session for Year 7 which will all be taking place on Friday 14th July. Adams CCF meets every Tuesday from 4-6pm.