Abberley Hall School celebrates record scholarship success
---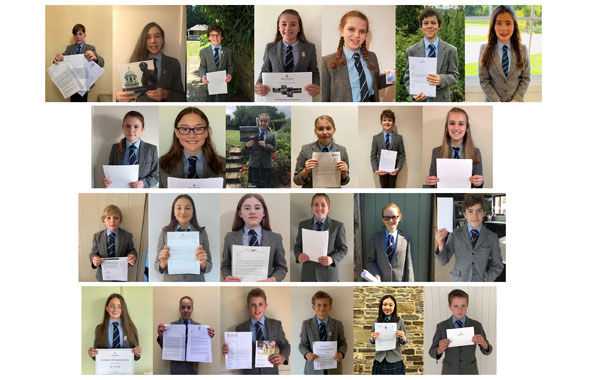 Youngsters from Abberley Hall School at Great Witley, Worcestershire are celebrating a record haul of prestigious scholarships and exhibitions to leading independent schools. 25 Top Year Pupils from a year group of 42 have won 48 different awards to a variety of top schools including Malvern College, Shrewsbury School, Malvern St James, Stowe School, Cheltenham College, Rugby School, Sedbergh College and Tudor Hall, some achieving multiple awards from different schools and in two different disciplines.
The scholarships have been awarded across a range of areas including All-rounder, Academic, Music, Drama, Art, Choral, DT and Sports.
"I am absolutely thrilled by the success the Abberley Hall pupils have found this academic year," said headmaster Will Lockett. "They've won a total of 48 scholarships, exhibitions and awards across seven disciplines and at 12 different schools. Our Year 8s are a talented and motivated year group with a wonderful appetite for life. As a departing head, the best leaving present I could have is seeing their endeavours recognised beyond this school. I am so proud of them and know they will go on to be leaders at their next schools.
Abberley Hall takes great pride in the teaching here and in the breadth and depth of its curriculum. These all help to inspire pupils to achieve so much at a young age."
The record total of awards has boosted the recent years' tally to an impressive 141 offers over the last three years. They are a tribute to the pupils' hard work in preparing for the senior school entrance exams throughout the year, often going well beyond the basic curriculum to widen their knowledge and enjoyment of the subjects.
Abberley Hall pupils have also recorded an outstanding success rate in their LAMDA (London Academy of Music and Dramatic Arts) exams earlier this year. 100% of pupils from Year 2 to Year 8 achieved high merits or distinctions.
The school's incoming headmaster, Jonnie Besley, the former Deputy Head of Pastoral at Orwell Park School, Suffolk, is holding open days with a difference, because of Covid-19 restrictions. He will be meeting families interested in sending their children to Abberley Hall or finding out more about it, at a series of 'picnics in the park' in the school's picturesque grounds throughout August.
See Abberley Hall School Profile, click here