A Levels Results Day 2022
---

19th August 2022 at 09:23am
Stoke College
Stoke College students are to be congratulated on their outstanding A Level results once again. To achieve 92% A* to C grades is a remarkable achievement. That five students, including our Mark Wang Scholars, received 100% A* to A in Mathematics deserves particular mention.
As the first cohort of Sixth Formers to sit A Level examinations since the beginning of the pandemic in 2020, results day has come with a deep sense of anticipation for students and staff. Stoke College's transition to online learning during the spring of 2020 was exemplary and its continued academic commitment to each and every student has reaped these remarkable results.
Jacob Dyer-Jones, Acting Head of Sixth Form commented, "These students have faced such unprecedented challenges and have shown admirable strength and resilience to get to this stage. The individual attention of expert staff in the uniquely nurturing small-class environment of Stoke College, together with the determination of our students, has produced these brilliant results."
Top performing international student, Ailin, now looks forward to reading Education at the University of Durham. "I cannot thank the staff of Stoke College enough. Not only did they help me
secure my university place at Durham, but they have inspired me to follow my dreams to study Education. I am absolutely thrilled."
Principal, Dr Gareth Lloyd commented, "We are absolutely thrilled with this year's A Level results. They are a testimony to the students' diligence and commitment to intellectual endeavour, and of course reflect excellence in teaching. We wish all our Upper Sixth leavers every success as they embark upon their next exciting chapters."
---
19th August 2022 at 09:21am
Wells Cathedral School
On A Level results day, Wells pupils have come together at the School to celebrate some outstanding A Level results.
Pupils enjoyed success across a range of subjects, from sciences to languages to humanities to the creative arts. 100% of pupils studying French obtained an A grade, the results in Music were exceptional even by Wells' phenomenally high standards, with 60% of pupils obtaining an A* grade, while the best performing subject of all was Geography, where all pupils obtained an A or A*.
Overall, more than 50% of pupils achieved at least one A*, with a number of pupils achieving a "clean sweep" of 3 or 4 A* grades. While reports are that the numbers of higher grades have reduced across England and Wales, Wells pupils have been able to buck the national trend and maintain the exceptionally high results achieved across the board in 2020 and 2021.
This year's A Level cohort faced the particularly tough challenge of taking their first ever public exams, following two years of cancellations due to Covid, which makes their achievements even more impressive.
These results mean that the vast majority of pupils have obtained a place at their first choice university. Well over 70% of pupils are heading either to "top tier" music colleges and universities, including Oxford, St Andrews, Durham, Bath, the Royal Academy of Music, the Royal College of Music and other Russell Group universities, where they will study a diverse range of subjects, including Oceanography, Medicine, English and PPE.
As always, many of the musicians who have obtained places at the world's leading conservatoires have secured large scholarships to support their studies.
Head Master Alastair Tighe said: "The fact that our pupils met the challenge of sitting post-pandemic public exams for the first time so brilliantly is an achievement in itself; that they collectively achieved such outstanding results is an even greater source of pride for the School and, I hope, for them and their families. The breadth of achievement is fantastic. I pay tribute to each and every Upper Sixth pupil for the resilience and aspiration they have shown, to their parents and guardians for their wonderful support and, of course, to my wonderful teaching and support staff colleagues who have so brilliantly helped these young people navigate the challenges of the last few years and ensured they can embark on the next stage of their lives with confidence and optimism".
---
19th August 2022 at 09:18am
Badminton School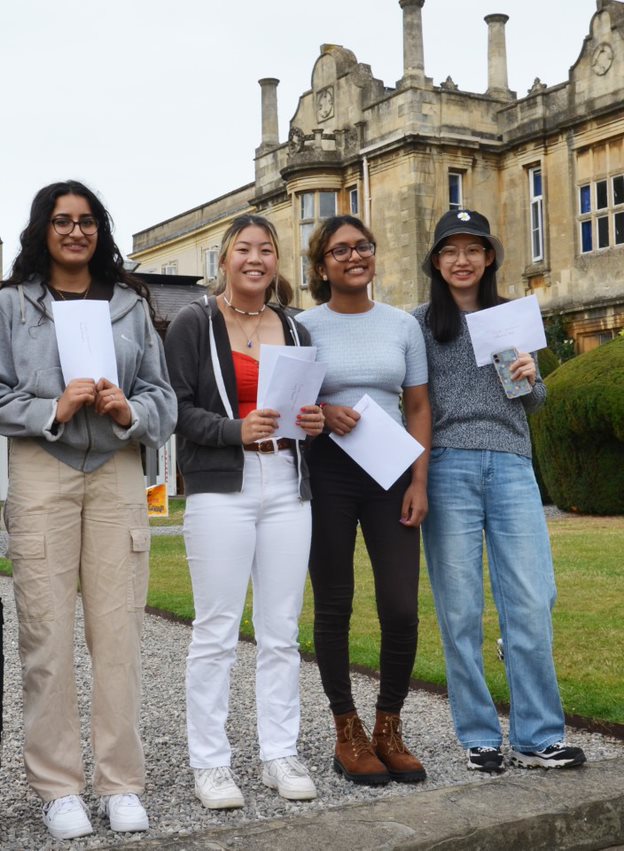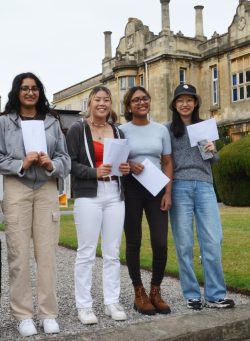 Students at Badminton joined their peers across the country this morning in being deservedly proud of impressive results.
Two thirds of students achieved three grades at A/A* level and over a quarter of students gained an exceptional three A* grades. Every candidate studying a Modern Foreign Language achieved an A* or A grade, a standout success with students excelling across the range of languages, including A Level Japanese.
Badminton students gained places on courses at a range of top universities including Oxford, Imperial College London and Durham University, as well as other renowned establishments such as The Royal Academy of Dramatic Arts. An exceptional 86% of placements were at the students' first choice university. Notable successes were to be found in applications to read Law: one student has a place at Pembroke College Oxford, while two others have places at the London School of Economics. One of the four successful students going on to study Medicine was Ankita who said: 'I am really looking forward to studying at Imperial in October. While A Levels have been a fairly gruelling process, I have enjoyed other activities during this time such as Diversity Club, Sign Language Club and being Head Girl.'
Art student Sarah Al was delighted to find this morning, when she checked her emails, that she has been awarded a scholarship to study for an Art foundation course at Bath Spa University as she exceeded the conditions of her offer. "I am very excited to take the first steps in pursuing a career in Graphic Communication, an area that I am really interested in. The teaching and resources that I've had at Badminton have given me skills and confidence in my subject ability".
Badminton students have also achieved in a varied range of activities alongside their chosen A Levels, seizing opportunities to broaden their horizons, both online last year and in person this year. All the students who chose to take the Apprenticeship of Fine Arts Creative Writing Course achieved top grades. Similarly, all students choosing to take AS Graphics achieved an A Grade.
It's not just in terms of examinations that students have shown a willingness to embrace new challenges. The cohort have embraced opportunities to take Badminton's Science Outreach Programme to the Festival of Tomorrow and Green Man Festival. The prospect of broadening their horizons and moving on to new surroundings led a number of students to apply for the School's travel award which was awarded this year to Helena and Chloe who plan to travel to volunteer in Albania and Hong Kong respectively. Helena who will next year take up a place to study Law said "I am so pleased to know that I will be starting to study at the London School of Economics and Political Science this September. My time at Badminton has equipped me with fundamental skills such as public speaking and debating which have all given me extra confidence when starting university this September. I feel excited and ready for my future!"
Mrs Tear, Headmistress said: "I am immensely proud of this year's cohort: not only have they showed great resilience in the way that they have handled the challenges of recent years, they have also made the most of opportunities offered by the School and been generous in contributing to the wider life of the School community. They have been supported every step of the way by a dedicated and skilled team; not just their teachers, but also the wider staff community at Badminton who make so much possible. It is enormously satisfying to see our students going off to pursue a really diverse range of subjects, from Set Design to Architecture or Computing to Veterinary Science. I know that they have the motivation and ability to success in what they choose to do and I applaud each and every student for what they have achieved at Badminton".
---
18th August 2022 at 2:37pm
The Duke of York's Royal Military School
Students at The Duke of York's Royal Military School, near Dover, are celebrating success at A Level with some 40% of grades being A* – B, BTEC with an average of Distinction, and some 72% achieving A* – C grades.
Subsequently, most students now head off to university, joining highly competitive courses. Several students will begin military careers, while others have chosen apprenticeships including engineering and accountancy.
Outstanding individual successes includes: Charlotte Higgs to read Natural Sciences at Lancaster University, Toby Thorne to read Mechanical Engineering at Exeter University, Toby was also 1 of 100 Army Scholars nationally this year, Seshehang Limbu to read Law at Lancaster University, Ethel Tendo to read Biomedical Science in Developmental Biology at the University of Aberdeen and Ellie Bennett joining an Apprenticeship Programme in Accountancy and Finance with PKF Frances Clark.
Principal Alex Foreman Said "As England's only state full boarding school, we utilised our unique situation to counteract the full impact of the pandemic and subsequent loss of learning. Our full boarding environment also allows us to encourage students to immerse themselves wholeheartedly in a breadth of activities beyond the classroom, developing strong character and diverse life skills – driven by our core military tenets. True to our values, the unconditional dedication of our staff and unwavering integrity of our students, has produced a fantastic set of results this year. The resilience our Dukies have shown under such conditions is remarkable. They are all exceptional, inspiring, and talented young people and we couldn't be prouder of them. As a result, I am certain they will look to their futures with huge confidence and back on their time here with fierce pride."
---
18th August 2022 at 2:34pm
Mayfield School
Mayfield, the leading Catholic independent day and boarding school, is celebrating an impressive set of A level results after what has been a challenging few years for those sitting Public examinations.
Mayfield's Upper Sixth girls have secured places at leading universities to study a wide range of courses including Architecture, Fashion, Fine Art, Law, Modern Languages, Medicine, Natural Sciences, Psychology, and Veterinary Medicine.
The girls have secured places at universities throughout the UK, including Edinburgh, Exeter, UCL and Royal Northern College of Music, with over 10% heading to Cambridge University, including twins Victoria and Valeria, from Crowborough, who each achieved an outstanding four A*s, Distinction in AEA Maths and an EPQ. The girls were also recipients of prestigious national Arkwright Engineering Scholarships in the Sixth Form.
The most popular A level subjects were Maths, Psychology and Chemistry and these were often combined with creative subjects such as Art or Ceramics. In fact eight Mayfield girls took Ceramics, all receiving the highest grades. These included Jemima from Hartfield – who studied Chemistry, Maths, Biology and Ceramics, achieving four A*s and a place at Cambridge University to study Veterinary Medicine – and Dii Dii from Tunbridge Wells, who studied Chemistry, Geography and Ceramics and will be joining the Police Constable Degree Apprenticeship programme.
Victoria, an international boarder, achieved an incredible six A*s, Distinction in AEA Maths and an EPQ, and will be going on to study Medicine at Cambridge. Headmistress Miss Antonia Beary commented: "This year perhaps more than ever, we are immensely proud of all that our Upper Sixth Leavers have achieved. Everyone holding an offer for this year, or deferred entry, has secured her place at University.
At a time of uncertainty, they have shown a resilience and positive approach which has been rewarded by an impressive array of results. At a time when faith in young people is being questioned, I am confident that our Mayfield leavers of 2022 are well prepared for the next stage in their journey, whether that be degree apprenticeship with the Metropolitan Police or Natural Sciences at Cambridge; studying everything from Architecture to Veterinary Medicine throughout the UK and overseas. Not only have they confirmed that they can pass examinations, but more importantly, they know that they are part of an inclusive community providing a lifelong network of supportive friends and peers.
They have the interpersonal skills and talents, not to mention the technical expertise, practised and honed over the lockdown and COVID years, to make the most of the opportunities ahead of them. I would also like to pay tribute to the teachers who have walked with them and supported them, particularly through the last few challenging years.
I am sure that our Mayfield girls will embrace the joys and challenges of the next stage of their education with their customary enthusiasm. As ever, we look forward to following their continuing progress with pride."
Mayfield offers an extensive Sixth Form curriculum, spanning the range of traditional academic subjects and a wide selection of creative and performing arts disciplines. Girls follow an individually tailored programme of study and, reflecting the rounded nature of a Mayfield education, many will balance a combination of arts and sciences. Mayfield has a tradition of cultivating academic excellence.
Class sizes are small and inspirational teaching, from highly-qualified and dedicated staff, enables girls to flourish and excel.
Sixth Form students also benefit from a complementary specialist Enrichment Programme, which promotes critical and independent thought, and intellectual enquiry beyond the curriculum, as well as a Life Skills course, which prepares girls for the future through the development of key employment and practical skills. Personalised higher education and careers advice and guidance is provided by specialist advisors to support girls in making excellent informed choices and a strong alumnae network offers a range of opportunities for mentoring and work experience.