Making sure girls learn to love physics at school
---
by Dorothy MacGinty, Headmistress of Kilgraston School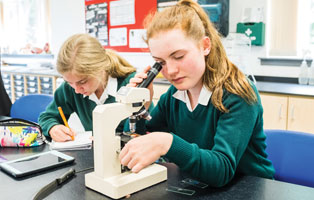 Evidence from international studies, supported in part by research in the UK, has found that just a few key elements affect pupils' attitudes to physics. It is up to us, the teaching profession, to ignite and develop a passion for physics in today's learners.

The research concludes that the key to learning is how students see themselves in relation to the subject, now and in the future – their 'physics self-concept' if you like. Pupils' experience of school physics and a personally supportive physics teacher is also vital.
Undoubtedly, and thankfully, global interest in the subject is increasing and physics is now a 'regular' on mainstream media. For example, the BBC radio series The Life Scientific, presented by Professor Jim Al-Khalili, is a 'go-to' programme for science-hungry teenagers. Comedian Dara Ó Briain has a degree in theoretical physics and regularly adds a technical (and humorous) perspective to science programmes. Of course, Professor Brian Cox, the energetic particle physicist, continues to inspire and educate in his field, engaging young astronomers everywhere.
Engaging early
It's all about engaging pupils early in their learning journey. At Kilgraston, our Head of Physics had personal experience of studying physics at school, as one of just three girls in a class of 20. This sort of ratio of boys to girls persisted into her early teaching career at co-ed high schools in Scotland where even now only 30 per cent of pupils who progress to study Higher Physics are girls.
This kind of learning environment can be intimidating and offputting for some girls and unfortunately the ratio can be self-perpetuating, with physics getting a reputation for being more suited to boys. However, in a predominantly or all-girl arena such as a single-sex school, girls feel free to let their natural curiosity reign, where questioning is encouraged. There should be no such thing as a 'silly question'.
Encouraging girls
Qualities that are often inherent in girls, such as attention to detail and diligence, are extremely important to being a good physicist. Girls' curiosity about the natural world must always be encouraged. This allows them to recognise that science is a process in which they are continually learning and building upon their understanding of how things work, helping to see physics as important and relevant to their own lives. Traditional textbooks tend to introduce concepts such as forces through different types of vehicle. At Kilgraston physics is taught instead by understanding velocity and force through sports, such as hockey and tennis, to which all pupils can relate.
Physics is the basis of all other science (after all, the heart pumps blood as a result of pressure and chemical bonds are the result of the electric field between the particles that make up the atom). The subject's fundamental nature makes it so appealing. It can be used to explain everything from the humble metal particles in a school desk to the origins and structure of the universe.
The Scottish examination system of Highers and Advanced Highers has always delivered content designed to give students the basic laws of physics. Little had changed from the time of Isaac Newton! Concepts such as Newton's Laws of Motion, the principles of conservation of energy and their applications, both ancient (e.g. how we see) and modern (e.g. mobile phone communication) were a tried and tested route.
Then several years ago, the new SQA Curriculum for Excellence courses were implemented. A challenge for teachers and students alike, this change introduced concepts developed in the last century, some strange and fantastic, such as the particle nature of light, the standard model of fundamental particles and Einstein's theories of Special and General Relativity (for which the discovery of gravitational waves in 2015 was confirmation). Suddenly, a modern and positive take on traditional routes was presented.
It is also very important to take learning out of the classroom. Travel restrictions permitting, Kilgraston makes an annual visit to CERN (European Organization for Nuclear Research) on the Swiss-French border, home of the Large Hadron Collider and where many new particles, including the Higgs Boson, were discovered. This allows pupils to see for themselves how new discoveries are made and to experience the fabulous collaboration between scientists of both sexes and from all over the world. Torness nuclear power station in East Lothian is also visited by pupils every year.
The national average percentage for female students graduating from STEAM subjects in the UK is under 25 per cent. As a small school, Kilgraston has high numbers choosing science subjects and continuing with them to an advanced level. In 2020, 56 per cent of Kilgraston leavers progressed to undergraduate STEAM courses at universities including St Andrews, Edinburgh and Durham. For the 2021 entry, we had 25 per cent of girls applying for Engineering degrees and 64 per cent for STEAM undergraduate courses, including Aeronautical Engineering at Queen's in Belfast, Biomedical Engineering at Imperial, Actuarial Science at Kent and Cardiff, Engineering at Sheffield and Environmental Science at Newcastle.
The enthusiasm is definitely there, but we must continue to deliver the subject in a life-engaging manner.