King's Ely Sixth Form students reap benefits of Mentor Match Programme
---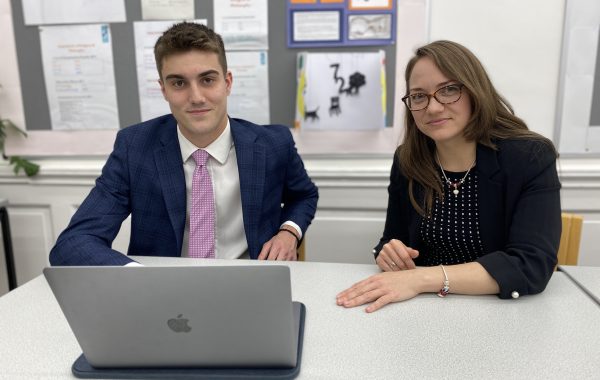 AN initiative which enables Sixth Form students at King's Ely to join forces with a professional in a field that they are keen to pursue at University is growing from strength to strength.
King's Ely's 'Mentor Match Programme' has been running for several years now. However a recent campaign to involve a larger number of mentors has resulted in more Year 13 students than ever safely drawing on the knowledge and experience of professional graduates through the scheme.
Mentors include King's Ely parents, King's Ely alumni and friends of the school. There are also professionals who have no ties to the school, but who want to support those preparing to embark on their future career paths. Mentors come from a wide variety of fields, including medicine, law, business and academia, to name just a few.
One of King's Ely's new mentors is Monika Olanrewaju, who is an Architectural Designer at award-winning RIBA Chartered Practice, NP Architects in Cambridge. Monika heard about Mentor Match through a member of staff at King's Ely and having passed the necessary safeguarding assessments, she has been supporting Year 13 student, Gabe Boon, for the last twelve months.
Gabe, who joined King's Ely Junior in Year 7, will be receiving his A Level results in a few weeks' time. He has received several conditional offers to study Architecture at University.
Monika, who holds a BArch, an MA in Typography and Graphic Design, and who is also a trained interior designer, said: "My first involvement with King's Ely's Mentor Match Programme was in 2021. I thought it looked like a great opportunity to help inspire and support the younger generation. Having contributed to successful internships in previous practices, I was keen to explore Mentor Match to expand my outreach and encourage students to pursue architectural education."
Monika, who has worked in three other European countries before settling in the UK, is now in the process of being fully registered with the Architects Registration Board. She added: "Mentoring is rewarding as it fosters diversity and inclusion within the industry in general. It has been a really good experience to mentor Gabe. I am excited to see him succeed in studying and continue doing what he enjoys most and have a fulfilling career. Mentoring programmes have a significant impact on both participants and mentors. I must say I learnt a few skills in the process, such as listening and leadership. I would strongly recommend other professionals to get involved in local mentoring programmes and to foster young talent."
Through the programme, mentors support Year 13 students and the King's Ely Sixth Form and Higher Education Team by exploring career avenues, the choice of universities and degrees, relevant work experience and internship placements. Their help is also available to students after they have left King's Ely, supporting them with that essential transition into work.
Gabe, who has just completed his A Level studies in Physics, Mathematics and Product Design, said: "Monika has guided me through the process of applying to University by providing resources to help me learn more about architecture as a profession. One of my most valuable lessons from Monika has been the way in which to approach art, which turned out to be any way. Before King's Ely connected me with her, I had kept my artistic side mostly in the back seat and rarely practised it. However, within a few Teams meetings, Monika had encouraged me to experiment by drawing anything and everything, which significantly improved my ability and confidence. When deciding which Universities to apply to, Monika's network of connections with other architects and students across the country was incredibly helpful and reassuring. More importantly though, she wasn't telling me which was 'the best' University to study architecture at. Instead, she was asking me about my interests and tailoring her suggestions to those. When it came to helping me with my portfolio, Monika knew almost exactly what admissions teams would be looking to see, which has given me a massive advantage in my application that I am truly grateful for. Most importantly, she helped me clarify a lot around the subject with general and specific questions, which has made me far more aware of architecture and its challenges. She was more than willing to share her expertise and experience with me, for which I am truly grateful."
If you are interested in supporting the Mentor Match Programme at King's Ely, please contact Gill Smith, Director of Higher Education and Graduate Careers, by emailing: gillsmith@kingsely.org