Is the focus on academic achievement squeezing out co-curricular activities?
---
by Jo Cameron, Principal of Queenswood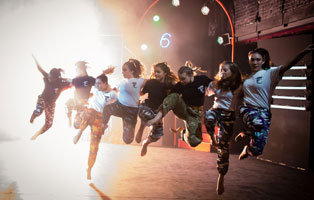 Results, results, results! We are all aware of the pressure on young people today to achieve good exam results. That pressure is of course shared by parents and teachers. At stake are the future university and career options for pupils. Many schools are also becoming ever more dependent on exam results to attract and retain pupils and to remain viable. It is not surprising, therefore, that a focus on academic achievement can sometimes be perceived to squeeze co-curricular activity

Historically, a UK boarding school education has been admired throughout the world for the extra or co-curricular opportunities that it has offered. Activities such as sport, drama, music, dance, debating and the Duke of Edinburgh's Award provide a wide range of benefits beyond the classroom setting to help develop the whole person. This includes the development of social skills, self-confidence, time management, team and leadership skills plus many other attributes to prepare young people for a globally competitive job market and life in general.
For some boarding schools it may be a challenge to continue to offer this all-round experience. The reason may be financial (some activities are resource hungry and can require additional specialist staff to run them) or schools may prefer to focus on timetable allocations that favour study to maintain their academic credentials or their place in the league tables. Schools that are very clear about the type of education they stand for tend to be crystal clear about the emphasis they place on academic versus co-curricular activities. I would advise prospective parents, when they first visit schools, to look very closely at the whole school offer and drill down into the detail of types of activity available and how frequently they take place.
Some schools' reputations may depend heavily on the number of pupils they get into Oxbridge or Russell Group universities each year and the temptation may be to reduce the number of non-academic options on offer to pupils in order to funnel more of pupils' discretionary 'free' time into academic study. As the Principal of a boarding school that is passionate about the merits of a fully rounded education, I believe this narrowing of focus ultimately short-changes young people. 
Enhancing academic studies
Research studies have shown that non-academic activities can really support and enhance academic studies. This, I believe, is where boarding schools can offer real value. For example, the need to juggle academic work with commitments to clubs and societies can improve time-management skills. This is vital for studying all year round but particularly helpful during revision planning for the exam season. 
Research studies have shown that non-academic activities can really support and enhance academic studies
Another important benefit is improved wellbeing. Sport and other non-academic activities help with physical fitness as well as contributing to mental wellbeing and developing concentration skills – an important aspect of managing exam stress. They also help to sow the seeds of behaviours that lead to lifelong healthy physical activity. With so much discussion about the state of young people's mental health, I strongly believe that we must give pupils the tools to help manage their own stress levels, now and in the future.
Added value
Oxbridge and Russell Group universities enjoy the pick of applicants from around the world, so they very often make their candidate selections based on the added value that pupils will bring to their course and not just their exam results. These can be the softer skills or wider areas of interest that are so often stimulated by a traditional boarding school experience with a fabulous co-curricular offer, where sport, music and creative arts are of an exceptional standard.
One of the huge benefits of a boarding school education is that boarding schools have the staff, resources, beds, and the space and logistical set-up to enable pupils to make the most of so many non-academic opportunities. Pupils gain activity time as they do not have to make a daily journey to and from home. Extra-curricular opportunities can also help to create lifelong friendships and bonds outside the classroom. 
Of course exam results are very important, but I believe that few parents genuinely wish their children to go through an 'exam factory' experience at the expense of receiving an all-round and life-enhancing educational experience. It is of course important to interrogate a school's record on public exam results – that is a natural and important step for all parents when choosing a senior school – but I urge parents to look beyond that and consider their whole child and his or her lifelong needs.