What does a bespoke education actually mean?
---
by Jo Cameron, Principal of Queenswood School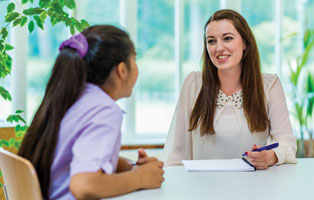 Almost all independent schools proudly assert that they offer a 'bespoke' education. As the Principal of a girls' boarding and day school, I am often asked what this means in practice.

Small class sizes are of course a crucial factor. Many parents are justifiably alarmed by the ever-increasing class sizes in state schools. An article in the June 2019 edition of Schools Week revealed that the number of classes of over 30 (some as high as 35) has almost doubled in five years. So it's no wonder that the considerably smaller class sizes in independent schools are a real attraction. Consider just how far-reaching those benefits are. In an average class of around 15, a child will receive twice as much individual attention from the teacher, who will soon develop an understanding of how he or she learns best. There will be greater support for children with special educational needs, and further opportunities to stretch the gifted and talented.
Tailored to pupils' interests and passions
Freedom from the constraints of the National Curriculum in the independent sector means that at Key Stage 3, the range of subjects on offer – and the schemes of work and syllabuses delivered within those subjects – can be tailored to the genuine interests and passions of the pupils themselves. The range of modern foreign and classical languages taught in independent schools is a case in point – while language learning is in decline in the state sector, Japanese, Arabic, Latin and Ancient Greek are all thriving in private schools.
Independent schools generally place considerably greater emphasis on the creative arts. At a time when curriculum time for subjects such as music, drama and dance is being squeezed nationally, and no provision for the arts is made in the Department for Education's EBacc (the set of eight recommended GCSE subjects), pupils at independent schools are very fortunate to enjoy the advantages of an education that values creativity, originality and resourcefulness. Boarding pupils are especially able to enjoy all the activities and opportunities on offer during the school day and in the evenings and weekends.
A creative education
Beyond the sheer satisfaction of self-expression, a creative education offers many benefits to pupils. Research has shown that regular and sustained participation in musical activities stimulates the brain to form new neural networks, and leads to better working memory (vital for mental arithmetic and reading comprehension), improved linguistic ability, and improvements in attention span, emotional resilience, empathy and self-confidence.
Likewise, studying drama and dance helps young people to improvise, think laterally, and become adaptable problem-solvers. Drama students grow into confident and articulate public speakers and working collaboratively on performance projects encourages engagement with others' viewpoints, and helps to develop qualities such as compassion and tolerance. These skills and qualities are highly prized by employers.
As pupils progress, the degree of personalisation increases still further. They are able to take advantage of the extensive resources available – including, crucially, the wide-ranging expertise of the teaching staff – to conduct their own research projects or take up elective courses. For example, in the sixth form at Queenswood girls are able to augment their A-level studies with seminars on topics such as personal finance, forensic psychology, philosophy and politics, and to attend lectures from prominent authors, politicians, entrepreneurs and philanthropists. They might even put themselves forward for the prestigious annual Global Young Leaders Conference in the USA.
Individual learning styles
At the heart of a bespoke education is a recognition that each pupil develops at their own pace, and in their own learning style. For example, while kinaesthetic learners favour practical and hands-on experience, auditory-musical learners benefit from mnemonics, rhythms and background sounds. Increasingly, independent schools are working to differentiate their teaching methods to suit individual learners.
At Queenswood, we have recently established a Personalised Learning Centre – a central hub where all learners can congregate. Senior academic scholars meet here for one-to-one and group sessions, to explore options for stretch and challenge and to discuss current affairs. Some pupils use it as a drop-in centre to seek advice on planning study and revision schedules, play flashcard games to boost working memory, discuss recommendations for non-fiction reading with staff and peers, or for structured tutorials to address specific learning issues.
Ultimately, every pupil deserves to be recognised as an individual. A bespoke education responds and reacts to the needs of each child, nurturing their unique potential, fostering independence, and allowing them to discover their own strengths and passions in a safe and supportive environment.