Girls and engineering and other STEAM subjects
---
by Olivera Raraty , Headmistress of Malvern St James Girls' School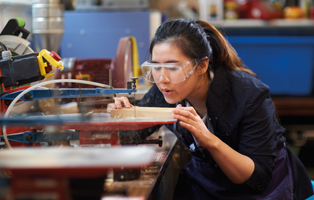 UK plc has a major skills shortage. Engineering UK's 2017 report The State of Engineering estimates an annual shortage of 20,000 skilled engineers, while other estimates range between 25,000 and 60,000. Given that engineering contributes 26 per cent of UK GDP nationally, this is a significant problem. More than 60 per cent of engineering employers say that a failure to recruit skilled staff is a barrier to business.  

And what about women in this picture? In the UK, females make up 15.1 per cent of engineering graduates and only 11 per cent of the engineering workforce, the lowest in Europe. To put that in context, Latvia, Bulgaria and Cyprus lead with almost 30 per cent of engineering professionals being women. In 2015–16, women in the UK accounted for only 6.8 per cent of engineering apprenticeships and take-up of A level Physics by girls has remained largely static for the past 25 years, at around 20 per cent.
These are sobering statistics, and it is clear something needs to be done to make STEM (Science, Technology, Engineering and Maths) degrees and careers more appealing to females. Part of the answer may be in recognising that it isn't just STEM subjects on their own that we will need in the future to support these careers. An engineer who has studied product design or art will also be bringing to their technical and scientific work not only an aesthetic appreciation, but also a creative approach grounded in experimental thinking and design or concept development from start to finish. With the digital revolution and the growing interconnectedness of businesses and industries around the world, using STEM skills and knowledge alongside those gained from the Arts will give organisations the greatest advantage. The combination of STEM and Arts subjects creates interesting crossovers and is often where innovation and new thinking is forged. We need creative and critical thinkers who can demonstrate technical and mathematical skills, digital literacy and scientific knowledge as well as empathy and human understanding as responsible leaders in this brave new world. A study and appreciation of the Arts helps to develop creative, analytical and critical thinking but also deepens our understanding of human emotions and situations. This is extremely powerful when combined with STEM. This is why at Malvern St James we are also encouraging pupils to combine their interests in STEM subjects with the Arts to literally 'STEAM ahead'!
As Headmistress of an all-girls' boarding school, I care about this passionately. I want to make sure our pupils explore STEAM subjects fully and realise STEAM is creative and compelling, and can be a superb career path. Women such as Roma Agrawal, one of the structural engineers who built The Shard, bear witness to these creative possibilities. I am pleased to say we have more girls than ever studying STEM subjects at A level, and more girls going on to read STEM subjects at university but they are doing so with a background in the Arts as well. For example, they are combining a study of physics and further maths with art or design technology, or biology and chemistry with psychology and music. Engineering, mechanical engineering, biochemical engineering, aviation engineering, mathematical science, computer science and architecture are some of the choices recent leavers have made. Nationally numbers are picking up in the independent sector, and the Government has launched an initiative to increase girls' engagement in the maintained schools sector.
It could be argued that in a girls' school, switching pupils on to STEM subjects is easier because there is no gender stereotyping, and science is not seen as the preserve of men. Younger girls see the older ones as STEM subject mentors, setting up STEM-related clubs and societies, and participating in the national STEM challenges and Olympiads. All of this creates a 'can-do' attitude towards the sciences, but there is more to it than that. They are not seen in isolation but as part of a wider body of knowledge. 
'Real-world' situations
The key I believe is to start girls young, to teach creatively and ensure there are plentiful enrichment opportunities where girls get to apply their knowledge in 'real-world' situations. So, for example, we have recently been inspired about artificial intelligence (AI) by a young alumna who is running her own highly successful consultancy in this sector. She ran workshops with our GCSE and A-level computing students, did a talk for prep girls and then a talk for STEAM, business and economics students interested in entrepreneurship. Young Enterprise is another platform for our budding STEAM students and entrepreneurs of the future, who are required to design a product and packaging, create a business plan and bring their product 'to market'.
Ideas like these provide excellent platforms for building pupils' self-confidence and know-how through hands-on applications. Although guided by teachers and professional mentors, the idea is to give pupils the independence to work things out for themselves.
Engaging children early
It is said children are naturally mini-engineers. They are strong on creative problem solving, building and tinkering, but formal classroom education doesn't allow them the scope to make the most of their natural attributes. It is important for schools to aim to preserve this natural curiosity by engaging children early. Much of the work done at senior level can be translated, with a few tweaks, to younger girls. Our prep girls (aged 4 to 11) have done a Mini Young Enterprise challenge, as well as enjoying a STEAM club where they have programmed robots and created circuits to light up a doll's house. They take part in the National Science and Engineering Week, where the whole school goes off curriculum to enjoy interactive workshops and all kinds of hands-on scientific challenges. 
Girls should not feel put off by the fact that the STEM careers landscape is so sparsely populated by women. We use appropriate alumnae as STEAM ambassadors and evidence of where a STEAM career can take you. For example, alumna Professor Ursula Martin, a mathematician and computer scientist from Oxford University, came to talk to the girls about her career in academia: she was the first female professor in any discipline at the University of St Andrews since its founding in the fifteenth century. Another alumna, a neuroscientist at Imperial College, London, came to champion STEAM degrees and careers; and several scientists, architects, network engineers and management accountants attended our recent careers fair. This kind of insight into what a STEAM career involves is hard for teachers to replicate. 
We have also forged links with local engineering companies to provide work placements for girls in Year 11 and above to see STEAM in action. Most companies are keen to offer placements to girls in particular as they are acutely aware of the need to attract more women into their workplace. Whether it's cybersecurity tasters through the Smallpiece Trust, getting involved with British Science Week, or undergraduate summer schools at various universities, up and down the country there are many opportunities for pupils to get the whole STEAM experience, and for girls to see other girls participating. 
I firmly believe that, even in my generation, we will witness a sea change in the number of women opting for a life in STEM and this is because it will have been supported by STEAM studies at school. This is great news: having more of the best minds in the sector will ultimately benefit us all.