How a boarding school uses agents
---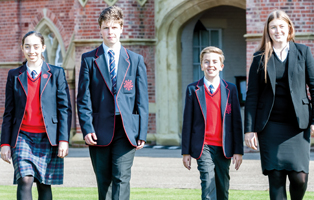 Elaine Purves, Head of Rossall School
Choosing the right school for your child is one of the biggest challenges any parent faces. This is where a good agent can be invaluable. Like a financial adviser, it's their job to match a customer with a product that's perfect for them – in this case finding a school that meets a child's needs.
An agent acts as a school's representative, and has in-depth knowledge of each school with which they work. Ideally, the agent will have visited each school they represent to gain a clear understanding of their aims and ethos, and will have met pupils at these schools so they have an insight into the sort of pupil who will fit in there.
Agents also provide support to boarding schools by setting up fairs and exhibitions where families can meet with schools. This is a great way for parents to view a number of schools at the same time without travelling to the country they wish their child to board in. For example, the British Council runs fairs in a number of locations worldwide and can be an excellent source of help and advice.
A good agent will work hard to build strong relationships with schools and parents alike to ensure they develop and maintain a good reputation. Placing pupils at schools that are unsuitable for them or having a large number of pupils leave a school can be damaging and suggests a lack of understanding of what a school can offer and what a child needs.
Support for parents
From a parent's point of view, the agent should act not only as a broker, who can present a shortlist of schools which meet their criteria, but also as a support to help them make the right choice for their child. A good agent will be totally focused on the child's needs and happiness and try to support parents into considering the right school for their child. An agent only has one chance to help parents make the right decision. Getting to know a family so they can find a school that's a perfect fit for child and parent alike should be the agent's main goal.
An agent should be in constant contact with the schools they represent and be able to offer parents literature and a good outline of the schools they're interested in and not just rely on websites for information. They should also provide excellent customer service, from the parents' first meeting to helping them create a shortlist of schools throughout the admissions process and for a while after your child has started at the school. You may have friends or other family members who are considering a school abroad, and a good agent will rely on recommendations from families they help successfully. An agent should see their relationship with you as something long-term and concentrate on building that relationship rather than securing new clients and focusing on their fees.
Guidance for parents
When you are choosing an agent, there are a number of points you should consider.
Ask prospective agents whether they have any former clients you can speak to about their own experiences of choosing a school.
Always ask prospective agents how many pupils they have placed who have stayed on the full length of the course they signed up to. Make sure the agent does not use the tactic of suggesting to parents a change of school in order to get more money from the school. If the agent has a number of clients who have switched schools, it may be that their main concern is financial profit rather than your child's education.
Be honest. An agent can only make recommendations to you based on the information you give them, so it's important to be open about the type of school you're looking for, and your child's preferences, talents and aspirations. A school may have an outstanding academic record, but if the support system, ethos and attitude don't suit your child, there may be little point in enrolling them there.
Always include your child in the decision making process. After all, they're the ones who will be attending the school.
Do your own research. Don't rely on what the agent tells you. Spend time as a family looking at websites, prospectuses and the social media feeds of schools to get an idea of what life is really like there, and form your own opinions. Your child's education is a huge investment, and the time you take to look into the schools an agent has suggested really will pay off.
Finally, always visit a school if possible. At Rossall we advise parents to visit as many times as it takes to make sure they're happy with their decision. Visiting the place where your child will be living, studying and spending their free time can really help to reassure you about the big step you're about to take.
This article does not imply a recommendation of any agents by The Boarding Schools' Association.