How a boarding environment helps pupils develop
---
by Jo Cameron, Principal of Queenswood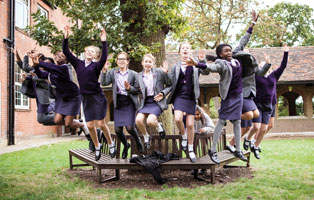 Going to a single-sex boarding school means having lots of fun, forming lifelong friendships and building a strong support network. What can be better than living and sharing a room with your best friends? And, what's more, these friends come from all over the world and open your eyes to the global community. If boarding is the window to global opportunities, then the cosy window seat and the curtains that shield you from the inclement weather is the pastoral care.

Traditionally in education the three Rs were Reading, Writing and Arithmetic. In boarding they stand for the fundamental values of Respect, Relationships and Resilience. 
In a boarding community you are in an environment where trying new things is encouraged. When I was at school there were comparatively few extra-curricular activities but nowadays after-school clubs range from aerobics to zumba alongside drama, music and sport opportunities. If a pupil has an idea to launch a club such as a Manga club, these things can happen in a boarding environment. And there are always other pupils to try new things too. 
'In a boarding community you are in an environment where trying new things is encouraged'
Developing independence
There may well be challenges, not only in the extra-curricular activities programme but also in the classroom, but with every little challenge that boarding school presents pupils learn a little bit more about themselves and become a little bit more autonomous. There is, of course, plenty of support from school, teachers and peers but pupils still need to look after themselves and take responsibility for their own actions to a much greater degree than if they were living at home. The boarding school day will of course have structure but boarding pupils have to make choices around how they spend their time, what activities and opportunities they take, and how they create a reasonable balance between work and play. 
Here at Queenswood, we are often asked about the specific benefits of boarding. More than 75 per cent of our pupils, whether they are registered as day girls or boarders, experience regular boarding at some stage during their school career. 
Here are some key benefits.
Boarding school means less 'helicopter parenting'. Relationships with sons and daughters improve as time at home is quality time; meanwhile young people learn to find their own solutions and ways of doing things.
Boarding schools have superb resources and networks. Many pupils particularly appreciate this as they enter the crucial exam years. Boarding means that they have access to the library and IT suites well into the evening, as well as being able to work together in small study groups, which helps pupils to develop vital skills for university and work.
Boarding schools foster face-to-face communication, and as a consequence reduce teenagers' screen time. Friends are together and they can chat with each other over meals. There is always someone to work with, talk to, explore ideas with, and spend time with.
Boarding schools expand peer groups and offer lifelong friendships across the world. In a difficult global climate where cultural tolerance and acceptance is becoming more and more important, boarding schools are able to educate and embrace diversity and the teaching around this. The bonds formed in a boarding environment, with pupils from around the world, are inevitably stronger due to the unique shared experiences.
Boarding schools keep activities within reach. As every Queenswood parent knows, our co-curricular programme is extremely intensive, supporting all abilities and levels of achievement – the challenge for our girls is to take advantage of everything on offer to them – rehearsals, concerts, sports training and matches can continue late into the evening thanks to our boarding provision. At weekends, staff at boarding schools like ours organise a wide range of activities to ensure that there is never a dull moment. For example, we have visited Chessington World of Adventures, Hatfield House, the indoor ski centre at Hemel Hempstead and organised countless shopping trips. There are new trips planned every week, with a careful balance of fun and challenge. Meanwhile there is an enticing range of onsite activities, including steel drum masterclasses, self-defence courses and polo.
Boarding school educators are experts at navigating the teenage years. Many will have experienced boarding themselves and really understand the challenges. An outstanding level of pastoral care provided by all staff, academic or pastoral, underpins the sensitively structured environment of a boarding school. Staff are on hand for extra tuition, coaching, counselling – or simply to help pupils regulate their own programme of independent study.