The advantages of starting boarding in a preparatory school
---
by Simon Barber, Headmaster of Ludgrove School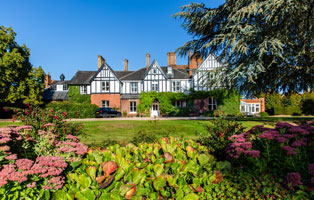 Boarding in a prep school brings a wonderfully diverse range of advantages and opportunities, but most importantly the children have a lot of fun. You only have to see the smiles on their faces and the excitement of planning what to do with their free time, to realise just how much boarding can enrich a child's life.

Long gone are the days when parents would drop their children at the school gate and wave goodbye until half term. Many schools offer a variety of boarding options – weekly, flexi or full – giving something for everyone.
For parents in the Armed Forces, it is a great comfort to know that their child is benefiting from the structure and consistency of a full boarding environment. At Ludgrove, the fortnightly boarding model we offer enables parents to relax with the confidence that their children are safe and secure, getting a huge amount out of the school day, surrounded by all their friends, and that at weekends everyone is either fully occupied in school or at home for an exeat with family.
Moving house is as much a part of life in the Forces as wearing a uniform and for some Service families this can mean many changes of school and friends. Boys coming to the end of an academic year are confident in the knowledge that they will be back next year, reassured to be returning to a staff room they know, food they enjoy, friendships they can build on, teams they look forward to playing in and with a curriculum and style of teaching that they understand and enjoy.
Children, and often adults too, are creatures of habit. Knowing what to expect makes them feel safe. They look forward to the annual nativity play, in which they can spot the costume they wore a few years before, they know the format of sports day and the fun of the picnics, they set their sights high on trying to get into a particular music ensemble or sports team. All this helps them feel confident and consequently they thrive.
Warm and caring
The continuity of care and education that a boarding school can offer is invaluable in providing a stable platform for a child's development. All schools should be educating children properly, but a first-class boarding school is a particularly warm and caring environment where children's confidence and characters are developed, they are valued as individuals and where they learn to live in a community.
At Ludgrove, we are lucky to have outstanding staff members who get to know the boys very well and understand what makes each individual 'tick'. Across the school the resident matrons, school nurse and boarding houseparents, as well as the teaching and domestic staff are all committed to ensuring that the 'spotlight' is on every child so that their confidence and character are nurtured at every opportunity. Unless children are healthy, happy and eating well they simply cannot fully flourish either inside or outside the classroom.
With the competition ever increasing for places in our senior public schools, boys and girls must shine earlier and earlier. It is for us as staff in schools to find that little something in everyone that makes them feel proud and a boarding prep school is wonderfully well prepared to achieve this. Having everyone together on site in free time throughout the day and in the evenings means there is time for extra-curricular activities, including music, drama, the creative arts and many sports. Events such as poetry recitations, speeches competitions, choral days and inspirational lectures will also enrich their learning. If a child can speak freely and with genuine interest about something he or she really enjoys doing, they will shine in interview and be a pleasure to be with.
Communication is key and boarding pupils have regular contact with their parents via email, telephone calls, Skype, FaceTime, and handwritten letters. Ludgrove is very active on social media, posting regularly on Instagram and Twitter – giving parents a 'window' into life at school several times a day and a chance to see if they can spot their son or sons! This has also proved a very popular way for prospective parents to get a feel for Ludgrove, 'following' us to understand the school's personality and way of life and getting the latest information on the school.
At a full boarding school, children of Service parents overseas can relax knowing that their children are surrounded by their friends enjoying doing similar things and having lots of fun. At Ludgrove, friendships are made for life, boys can be boys and our unique spirit allows them to thrive in an atmosphere of happiness, high achievement, good manners and kindness.