Why are co-curricular activities becoming increasingly important?
---
by Rebecca Tear, Headmistress of Badminton School and Vice Chair (Chair Elect), BSA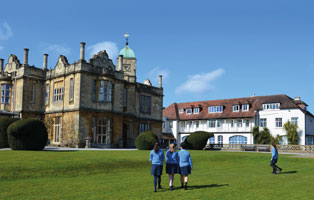 Co-curricular literally means pursued alongside the normal course of study, but perhaps should be renamed because co-curricular activities are, and must be, a central part of every child's wider education.

It is obvious that lessons should provide quality instruction so that pupils excel in exams, but why do we need to consider a curriculum beyond this? 
One important reason is the opportunity co-curricular activities give pupils to work with ideas and have a more hands-on experience. The saying 'I hear and I forget. I see and I remember. I do and I understand' may be an over-simplification, but it's a reminder that we need to reinforce theories studied. By engaging practically and applying knowledge pupils can check their own understanding, iron out any misconceptions and also experience the joy, awe and wonder of different areas of their knowledge coming together to make sense of reality. During this process pupils often become caught in a flow state of learning, totally losing track of time, thinking more freely and often seeking further detail to resolve more complex ideas or issues they have uncovered. 
An example of Badminton pupils working with ideas and getting hands-on experience is our Science Outreach programme, where pupils themselves demonstrate novel applications of science to other people at different settings, such as primary schools, women's institutes, music festivals and Big Bang fairs. This develops their communication and presentation skills, leadership and teamworking and the process involves training, skill practice, peer training and experience of the wider world.
Trying out their academic knowledge in a practical way or a real world context also enables pupils to deepen their understanding and gain a sense of whether a particular discipline is 'for them'. Uncovering their strengths, potential and motivations helps them identify their future pathway. 
Developing skills and qualities
In the process of working in a less teacher-led way, pupils can access a whole range of skills and qualities needed to succeed, such as the ability to do effective research, strong independent motivation and good collaboration and communication skills. An example of a programme to encourage this kind of development at Badminton is Tycoon, a national enterprise competition for students aged 6 to 18. Each participating team writes a business plan, is lent money, starts a business and competes with other student companies through a sophisticated kickstarter style platform, in a safe and controlled environment. 
Although academic outcomes enable access to higher education, to thrive in the long term, pupils need to develop skills and qualities to ensure they are emotionally, socially, financially and technologically literate. As they move beyond the classroom into the more independent world of higher education or work, these skills and qualities will stand them in good stead.  
Self-understanding
Co-curricular activities are also about pupils understanding themselves and gaining confidence from that. To choose activities they need to strike out alone, find self-motivation and perseverance and manage themselves, maybe even against the flow of their friends doing something else. They may also need to be part of a group, and that group may not be their friends or their age group, pushing them out of their comfort zone and developing their communication skills and building confidence. For example, our Badminton Baccalaureate, a tailored award for Years 5 to 8, recognises the diversity and individuality of each girl's achievements throughout the year, both academically and beyond the classroom. It celebrates the commitment, time and effort pupils put into their academic studies and other enrichment activities through different levels of awards within the scheme.
Making choices
Even the first step of having to make choices about which activities to do is enabling. At Badminton I often have requests to de-conflict more activities in the timetable because pupils want to do them all. But I hold firm because I believe pupils must learn to evaluate and make choices. In life we cannot do it all; it is vital to know yourself and your needs and to be able to evaluate opportunities. These skills will make a child or young person a better pupil in the short term and a much more skilled employee or manager in the longer term. 
We also need to nurture the different aspects of our physical and mental wellbeing – there is no point in excelling academically if you are too unwell to use your knowledge. Pupils need to appreciate how to live a balanced and meaningful life. Pupils mixing outside their own peer group or age group 'bubble' become better able to keep perspective, and are better integrated with the wider world and more sensitive to the needs of others. 
This is all part of teaching pupils that making a contribution is an important part of everyone's life. We should see this as a norm as well as being aware of its positive impact on our own health and wellbeing. Pupils should have opportunities to seek advice on the choices that they are making via their peers. This is facilitated by the Peer Mentoring Programme, which includes a six-week in-house taught scheme providing skills and supervision of the mentors by pastoral staff.
Enrichment supports learning, stretches capabilities and develops the whole person, not only giving them a chance to explore their interests and to feed curious minds, but also preparing for life after school – enriching their university applications or CVs is just the tip of the iceberg of benefits. The value of the skills, self-awareness, real-world experience, confidence and agency for next steps in a changing and challenging world places co-curricular activities firmly in the spotlight. So what should we rename co-curricular? Core personal development? Lifeskills?… I'm still thinking about that.