Boys only? The case has never been stronger
---
by Rob Morse, Headmaster of Aysgarth School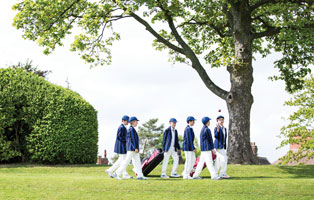 Single-sex education is often misunderstood. Critics are quick to lay claim to discrimination and to suggest that it produces individuals who lack confidence around the opposite sex. Nothing, however, could be further from the truth. Single-sex education is not about pitting boys against girls – it is centred on providing environments where boys and girls can thrive in a setting that is best suited to them, allowing them to develop belief in their own ability and to enter the world as confident individuals.

The right setting for boys to thrive
Let's take boys as an example. There is no doubt that most boys benefit from regular and vigorous exercise and that they achieve their very best in a competitive situation. This is why the traditional preparatory school (and to a lesser extent, senior independent school) timetable is based on lessons in the morning, with a daily games period following lunch, before the children head back into lessons before supper. 
Should we be surprised that Chris Robshaw, the former England rugby captain, was educated at a boys-only prep school? What about Alastair Cook, former captain of the England cricket team, who spent his formative years in a boys-only senior school (where he was a music rather than sports scholar)? That is not to say all boys will go on to such heady heights but in a world where we seek a good 'work–life balance' the opportunity to indulge in traditional games on a daily basis is, in my view, too good to miss. 
I am a firm believer in the phrase mens sana in corpore sano – 'a healthy mind in a healthy body' – and never is this more important than when we are young. But what about those boys who do not thrive on the sports field? Boys' schools, by their very nature, tend to appoint many male staff with an interest in games and therefore children with less developed sporting ability are offered excellent coaching and therefore opportunities to improve.
I am a firm believer in the phrase mens sana in corpore sano – 'a healthy mind in a healthy body'
 The creative curriculum
It is perhaps in the creative subjects where the greatest discrepancy between single-sex and co-educational establishments can be found. As I write, the Senior Choir (some 24 boys aged between 11 and 13) are rehearsing for this Sunday's Chapel service and the refrains of choral anthems and hymns are echoing along the corridor. Later this afternoon the Junior Choir will meet and this evening the Concert Choir will have their opportunity to raise the roof. Only last week, more than 80 boys travelled to Ripon Cathedral for the Macmillan Cancer Research Carol service. This service raises a sizeable amount of money but it also provides the opportunity for more than half the boys in the school to sing in front of an audience of more than 850 people. I am not suggesting that similar events do not take place in co-educational schools but I do question whether such a high percentage of boys would take part in a co-educational setting. Evidence suggests that in a co-educational setting, more than half the choir will be female. Why might this be? Simply because boys can feel pressure to 'look cool' in a mixed environment, and music, drama and art may not be seen as 'cool' in the eyes of a 12-year-old boy.
Single-sex schools top the league tables
This leads me to the crux of the matter and to the most significant reason for choosing single-sex education. Very simply, boys and girls do better when they are in single-sex environments and there is a great deal of evidence to support this. For example, Graham Able's study of the performance of girls and boys in 30 single-sex and co-educational schools in England found that, although both girls and boys did better in these single-sex schools than they did in the co-educational schools, the single-sex advantage was greater for the boys than it was for the girls (information from National Association for Single Sex Public Education (NASSPE), now called the National Association for Choice in Education (NACE)). The Daily Telegraph league tables for GCSE results in 2015 revealed that the top ten state schools and the top ten independent schools were all single-sex.
Where boys will be boys
Some people argue that this academic success comes by 'hot-housing' the children or by forcing them into adulthood more quickly. Nothing could be further from the truth. As Tony Little, former Head of Eton College  and Honorary President of the BSA, 2015–16, has said, 'What does strike me is that in a single-sex environment, there is an opportunity for both boys and girls to be themselves for longer. To be "boyish" for longer, to be young girls.'
Perhaps most importantly is the fact that a single-sex education builds confidence and self-belief. It is no wonder that the boys here at Aysgarth are thriving in the classroom, throwing themselves into their sport, singing in the choir, playing musical instruments, acting upon the stage and enjoying every moment of their time at school. Single-sex education? The case has never been
stronger!