What is it really like to board at prep school?
---
by Gareth Jones, Headmaster of St Andrew's Prep, Eastbourne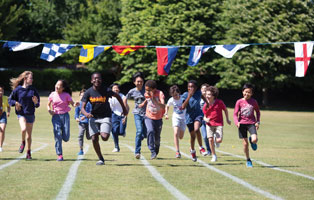 There is something about British boarding school life that has always captured the imagination but literature and film are littered with enduring yet outdated stereotypes. Modern UK boarding schools are warm and welcoming, well regulated and full of sympathetic staff who provide superb pastoral support for their pupils. As a consequence, children flourish. Like many independent prep schools, St Andrew's Prep offers a values-based education that aims to develop self-reliant, industrious young men and women who are empathetic and culturally aware. Boarding is the perfect breeding ground for this. 

Boarders are organised
Boarders have to be organised and acclimatise to routines and structures. They must learn to live alongside each other, look up to older pupils, look out for younger pupils, and understand pupils from another country. Boarders learn to use their time wisely. They value their free time and tend to be more industrious and more imaginative as a result. Boarding schools ensure children's evenings are spent being socially active through some kind of sporting or creative activity rather than being glued to a screen. Many prep schools have fantastic sports halls, swimming pools, music schools and dance studios open late into the evening. Children become fitter through the purposeful busyness of their days and tend to be more focused on what they need to do.
Boarders are durable
A boarding day can be long and boarders need energy which is supplied by the excellent catering in boarding schools. Food has come a long way from the cold slop depicted in Victorian literature – modern boarding schools ensure pupils have access to three solid meals per day with healthy snacks in between. There is little danger of obesity-related issues however because the pastoral care is such that monitoring heights and weights is commonplace although always handled discreetly and with sensitivity. Indeed, today's pupils are much more savvy about diet and nutrition because schools are educating them.
Boarding schools attract highly qualified teachers who see their work as a calling, not a job. Teachers often have families who are involved in everyday school life and there is a collective desire to be positive role models in a family-oriented setting. Pupils interact with staff more frequently than in day schools and see the human side of their teachers. As a result, relationships are strong, there is a good deal of trust and the culture tends to be one of acknowledgement, both for who people are and for what is done for them.
When it is time to move on, boarders often do well at university because of the need to be independent from an earlier age. Academic study comes more easily and they are more often the ones with the robustness to withstand the pressure of academic rigour alongside all the other demands and distractions of student life. And boarders are often more advanced socially. It's the little things such as making a bed, packing a bag, introducing oneself to a new group – these skills should not be taken for granted but they are inherent in most seasoned boarders.  
The positivity of boarding life
When I think of what life at a boarding school is really like I see a multitude of positive images: smiles around the kitchen table enjoying hot chocolate and a game of cards; boys and girls playing hide and seek in the trees; a young boy excitedly Skyping his parents about the weekend sleepover at his new friend's house; the compassion on the faces of the dedicated members of staff. I hear the banter over the supper table about the latest sporting triumphs and the eager chatter of pupils from contrasting cultural backgrounds but with the same passion for fashion. 
And at the end of it all, at the end of another year, I see the puffed up chests of pride on boarders standing ten feet taller and a great deal wiser from all the experiences, good and bad, that they have laughed at, cried about, and shared with the strongest of friends. That is what prep school boarding is really like.