Stability breeds success: the benefits of boarding young
---
by William Dunlop, Head of Clayesmore Preparatory School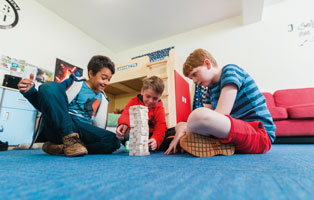 It is impossible to overstate the importance of continuity in education. Surprisingly few attempts have been made to quantify it, but a major study led by Professor Maurice Galton in 1999 gives some idea of the scale of the problem: Galton found that 40 per cent of pupils failed to make expected progress in the year after a change of schools. Children of Service personnel might easily find themselves having to change schools every two or three years; at Clayesmore we regularly see children who have been in at least three or four primary schools.

The educational impact of this is obvious. Without boarding, Service children can be in serious danger of missing out on a proper education, significantly harming their chances of happiness and success in adult life. This is not just because of a lack of continuity in teaching but perhaps even more significantly because of the disruption to the social and emotional aspects of learning. The situation is further complicated by the undoubted fact that Service life is stressful. Parents often have to work long hours and are away from home for extended periods, postings are frequent and the future is usually uncertain. In these circumstances it is very hard to be the kind of parent one would want to be, and this is stressful in itself. The impact is most severe on younger children, for whom stability is paramount.
Service parents can avoid all this. The Continuity of Education Allowance (CEA) is designed to give some Service children the opportunity to board from as young as Year 3, and parents who take up this opportunity are almost invariably surprised and delighted by the effect that it has on their children. One Service parent at Clayesmore describes the experience like this: 'The children settled very quickly and seem to embrace all the opportunities offered to them. They seem to have melted into the fabric of the place and are very comfortable.  They have grown in confidence and have achieved academic success. A lot of this is because they feel that they are at Clayesmore for the long haul and enjoy all that is invested in them. Before they joined they were looking forward to having friends that they could keep. Children who are happy and comfortable with their relationships thrive!' 
Boarding schools offer outstanding pastoral care for Service children. At Clayesmore as at many other schools we make our boarding environment as homely as we possibly can. Our dormitories are colourful and spacious, but not so large as to be impersonal. Our boarding staff are led by a married couple who have children in the school (as do Celia and I). Homework – or prep, as we call it – is done in small groups with adult support on hand, and there are plenty of activities to help children unwind after a long day. Most importantly, there is always someone the children know and trust to check that they are happy, to listen to them, to see them through bedtime and to sort out their laundry. 
Boarding schools offer outstanding pastoral care for Service children
This does not mean that parents become redundant; the children are in regular phone contact, and we encourage parents to visit whenever they can. Our standing invitation to chapel, lunch and matches on a Saturday is always popular, not least because of the quality of the food! Many of our Service parents find that by letting us take on the day-to-day business of education they actually bring their families closer together, as they can concentrate on their relationships rather than on the routine. At Clayesmore our pastoral care is enhanced by long experience of supporting Service families and by the fact that several of our staff have experience of Service life themselves. The presence of a large number of fellow Service children is also a help, particularly as we often have several families stationed in the same place. With prep and senior schools on the same site, siblings can stay together throughout their education.
A supportive environment
Stable relationships and a comfortable, supportive environment give young children the confidence to try new things, both in the classroom and beyond it. Young boarders thrive on an engaging curriculum taught by teachers to whom they can relate. Many children actually prefer making educational discoveries with people other than their parents, as any parent of a reluctant reader will affirm! Moreover, preparatory schools offer some of the best sporting and extra-curricular opportunities in the world, ideal for those who value a healthy, balanced lifestyle as much as Service parents do. One new Service parent told me recently that her daughter had done more sport on her first day than she would have done in a week in her previous school, and of course children are encouraged to combine this with music, art, drama and many other activities.
Most importantly, boarding at an early age affords children a period of stability when they do not have to worry about anything, and when their concerns can swiftly and easily be answered. This gives them an unrivalled opportunity to experience the joy of childhood, an opportunity that might easily elude them otherwise. It is worth noting that many schools, Clayesmore included, offer a Service discount and means-tested bursaries to make this opportunity available to all Service families, whatever their rank or background.