Specialist provision for pupils with dyslexia
---
by Andrew Russell, Headmaster of St David's College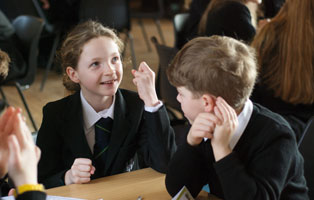 Independent education in the UK is highly regarded around the world, with many schools attracting pupils from across the globe. But as a parent what are your options if your child has a specific learning difficulty such as dyslexia? Children with dyslexia may struggle to access a traditional curriculum. 

Many parents consider independent education to find the right support for their child. There are estimated to be 35,000 pupils with dyslexia in independent education. Families often come to St David's College frustrated by the lack of support they've had in their current school and they are sometimes disillusioned by education entirely. But specialist schools like St David's can offer the correct support for a dyslexic pupil and understand that every individual child needs a unique approach. 
Unlocking potential
Dyslexia Specialist Provision (DSP) Schools offer the best opportunity for a child with dyslexia to achieve success and fulfil their potential. So what is it that these schools can offer dyslexic pupils? Every dyslexic person has their own individual learning style and only highly trained specialist teachers have the ability and teaching practice to discover this. Dyslexia specialist schools provide the teacher pupil ratios and the learning environment to allow this kind of individual attention. 
Classroom teaching is combined with one-to-one sessions to concentrate on specific areas that require extra support. This combined approach offers a seamless learning experience and support system. Areas of weakness discovered in the classroom can be improved upon in individualised teaching sessions. 
Dyslexic learners often struggle to read pages of text or concentrate for long periods of time and so lessons need to be engaging and creative. A kinaesthetic approach often yields the best results and well-trained staff understand how best to deliver this. 
Free from academic pressures, the emphasis in specialist provision schools is placed on teaching the whole person and creating specific coping strategies not only for the school years but also for the professional career ahead. In a specialist supportive environment the focus is not only on achieving in the classroom, but also on inspiring a confidence so that every pupil is aware of their strengths and able to use these to overcome weaknesses. 
Outdoor education
Outdoor education plays a large role in taking learning beyond the classroom. Though this may seem a distraction from the curriculum, the skills and experiences gained from such activities help to improve confidence and strengthen resilience, aiding pupils in their day-to-day school life. 
Staff ability and skills sets are also vital; the needs of a dyslexic pupil can be varied and complex, therefore teachers need to be qualified and experienced to deal with this. Many specialist schools run a comprehensive staff training programme, often bringing in specialists to share best practice and develop new teaching techniques. 
This level of support is often best taken advantage of in a boarding environment. With access to teaching staff during 'out of office' hours boarding pupils can engage with their teachers in a more informal setting. The benefit to this level of access is the ability to speak with subject teachers about areas of concern outside of a classroom setting at any point in the school week. Boarding also allows staff to truly get to know and understand each individual pupil and their unique abilities. A well-established and effective pastoral system can go a long way to helping a dyslexic pupil achieve their full potential. 
Finding the right school can be a frustrating and difficult experience but once the right school is found a child's life can change in a profoundly positive way. 
St David's pupil Jack's well-publicised experience is proof of this. After being rejected from 30 different schools and struggling even to spell his own name, Jack started St David's College disillusioned with his education. Since then Jack has gained nine GCSEs, won a Welsh national award for his GCSE Design and Technology project, gained an A level in design and technology, distinctions in BTECs in science and production design and a place at Swansea University to study automotive design. Jack is proof that finding the right school with the right support can unlock potential that lies buried beneath the banner of dyslexia. 
You can read more about Jack's story here: http://www.getreading.co.uk/news/local-news/ascot-explorer-jack-harley-walsh-speaks-9316354
For parents who discover their child is dyslexic there are some great resources to help find the right school and also useful advice. CReSTeD produces a register of specialist schools and can give parents guidance and reassurance. The British Dyslexia Association's website is also an excellent resource for advice and information. 
The best advice I can offer to parents is to do your research and visit a school to get 'a feel' for what they can offer in terms of both academic and pastoral support. Dyslexic pupils are often told what they can't do, but with the right support at the right school you'd be amazed at what they can do.