Schools as communities in the widest sense
---
by Mark Wallace , Principal of Lincoln Minster School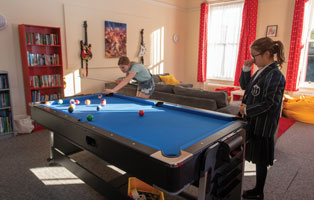 Schools today have a much wider focus within their communities. Whether that is because they want to be seen simply as a 'good neighbour' or they actually want to make a contribution or difference is down to the leadership. Certainly, independent schools, and particularly those with a boarding element, take their responsibility to the community very seriously, both internally and externally. A wide international mix of pupils helps to broaden horizons in the classroom and in the boarding houses, and small 'sleepy villages' can come alive during term time with the mix of pupils passing through the local shops.

A rich environment
Schools like Lincoln Minster School (LMS) benefit wholeheartedly from the experience of a multi-faceted microcosm of our global society. The classroom environment is far richer and far more laden with opportunity and discovery than ever before, both for teachers and pupils. Consider the environment in which a boarder at an independent school will grow up. It is much more than the 'long sleepover'. Taking responsibility for their own space and tidiness, initiating activities or games and planning outings and trips are just some examples of how boarding gives leadership opportunities to pupils as well as a sense of self-worth.
The activities that extend beyond the usual curriculum are often augmented for boarders who will spend less time in front of a screen than their peers who go home every night. And the activities are different too – these are often discussed and then initiated by the pupils at their Boarders' Council meetings. Examples at LMS include polo, a weekend spent in a castle in Scotland, attending the finals of the British Basketball League, water sport activities at Tattershall Lakes, go-karting and replacing exeat weekend with an enrichment weekend to Euro Disney. At the time of writing, our boarding staff are making arrangements for boarding trips to Barcelona and New York as well as other weekends away in UK destinations. These experiences are in addition to a range of local activities in Lincolnshire itself. Because such opportunities are presented to boarders, the demand for weekly and flexi-boarding is on the rise.
An active role in the community
More and more boarding schools are playing an active role in their communities whereby they are adopting a local charity to support over the course of an academic year through visits and fundraising initiatives. I know a school where during a particularly harsh winter, the boarders borrowed a number of shovels from the maintenance team and then cleared the snow from their neighbours' driveways. The local newspaper loved this story, as did the neighbours!
Our international boarders are also very engaged within the school community.  A number of Year 10 pupils recently completed their work experience in the pre-preparatory environment. We also run regular boarders Lunchtime Live events, open to the public and fellow pupils. International pupils are central to our end-of-term concerts held in the historic Lincoln Cathedral.
Far from being disadvantaged by missing out on family life, boarders reap huge advantages from the opportunities offered to them since they are, in essence, part of another large family. Boarders are engaging with others, not just in school but in co-curricular clubs, sharing interests, experiences, curiosity and having new adventures. They learn what it is to be a member of a group, of many groups, and they are forming friendships for life. It is little wonder that these young people develop into self-sufficient, confident young adults who are poised to make a difference in this ever-changing world.