Read School
Main Street, Drax, Selby, YO8 8NL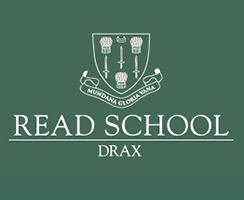 Read School nestles in 17 acres of beautiful grounds in the tranquil rural location of Drax village.  This provides the backdrop for a multitude of academic, sporting and outdoor adventures inside and outside of the classroom, including the running of a successful market garden, a thriving 110-year old Combined Cadet Force (Army & RAF Sections), Duke of Edinburgh programme and active equestrian teams in both Junior and Senior school.

Our Foundation years in Reception at Read School are the confidence-building basis upon which our excellent education for pupils aged 3-18 is built.
Small class sizes and generous staff to pupil ratios allow teachers to spend valuable time with each child, providing a wealth of opportunities for children to flourish and grow in confidence in every aspect of life at the school.  This is demonstrated, not only in the children's academic and extra-curricular achievements but also in the excellent quality of our drama productions and musical events, the breath-taking artwork, the results and performances on the sports pitch and everything that our determined children do.
By joining the Read School in the Junior or Senior School (day or boarding) we believe that your child will join a stimulating, happy, secure and inclusive community where every child is valued and where learning is caring, inspiring and fun.
353 Years of Pupil Success
Read School was founded in 1667 by Charles Reade, a local lawyer and philanthropist to provide 'proper' education to the poor boys of the parish of Drax.  351 years later, the School is still committed to the ideals of its founder. It offers education of the highest quality and ensures that the life chances of many young people are enhanced.  Developing happy, confident and well-rounded pupils who are ready to succeed in their university, professional  and personal lives is the approach which still underscores the school experience today.
We have a strong commitment to providing our pupils with memorable life experiences, such as a variety of educational trips and visits abroad (including Iceland, Normandy, Ecuador), work experience programmes and a variety of outdoor adventurous activities designed to build communication teamwork and leadership skills as well as resilience and friendships for life.
We are proud to have a longstanding history of welcoming pupils from families in the armed forces and indeed several Read alumni are themselves serving today, inspired by their Cadet Force experience.
A Boarding Option for Every Family
Boarding at Read is busy, friendly and fun.   We offer a happy caring environment where every child feels secure and valued, giving them the chance to learn valuable life skills and grow in confidence.   It is a stepping stone towards greater independence or when looking forward to moving onto university.
We offer full as well as weekly and flexi-boarding and all rates are fully inclusive of all meals and snacks, laundry, pastoral care, supervised prep, on-site boarding activities, sports, use of school facilities and emergency medical care.
Download our brochure CCF Brochure 2019
Read our latest Newsletter  24.01.20
Read the Jnr School Draxionian Review 2019 
Read the Draxonian Review 2018/2019