Prep school boarding in 2020 and beyond – protecting innocence while exploring reality
---
by Richard Foster, Headmaster of Windlesham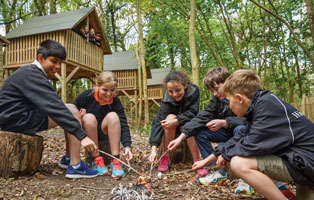 In a world where children have more access than ever to types of communication that can be considered to strip away their innocence, it is vital to provide sanctuaries where the ideals of childhood can be preserved. I would argue that in providing such a sanctuary a boarding prep school is not merely a shelter from the 'real world' but a proper passageway to the future.

Let's be honest with ourselves, both as educators and parents. The pressures of contemporary living mean that for a variety of reasons many children spend too much time by themselves, often connected to devices through which they might be entering a virtual gaming reality or constructing an idealised profile of themselves on social media. Opportunities for true holistic development (shared play, real conversation, time spent outdoors) in their home lives may have become limited. This is reality for many families. One might even say that workplaces of the future will be ideally filled with people who function in isolation, interacting only with their own particular piece of professional technology. But this would be reductive and naïve. The ever-changing world of the future will in fact need dynamic, imaginative and playful explorers – and people who can communicate confidently with others from different cultural backgrounds. 
Providing space and time
A prep boarding school gives children the space to develop these characteristics, all of which of course grow from their natural instincts. It is a space in which children from different parts of the world can work together, play together, talk together – live together. In such schools we can build essential models of community and society. I believe it is crucial to deny the children the use of their own personal technological devices and instead issue school devices solely for educational use – and only at certain times of the day. That way the children can still remain at the cutting edge of learning while understanding the key separation that must exist between the way one chooses to spend personal domestic time and the way in which one must engage with community.
A prep boarding school gives children the space to develop these characteristics
This means the traditional 'offerings' of the boarding prep school are more essential than ever. At a boarding prep school there is time and space to devote to sport, shared cultural and artistic activities such as plays and concerts, and dedicated slots of time in which individual children can develop their own personal interests under specialist supervision. All these things are undeniably enriched when children live in their learning environment – giving them more time for a range of activities and experiences that will shape them as unique individuals who will come to understand the particular special role they are born to play in tomorrow's world.
Living together
It is this very concept of living that stands out above all and constitutes the modern boarding prep school's most essential 'offer'. Walk around the grounds of my school, and indeed any good boarding prep school, towards the end of a summer evening and you will see the senior pupils still up and about, playing, talking, enjoying each other's company. In many ways this should represent the pinnacle of what we can achieve. It just so happens that in our school most of those pupils like to gather at that time in the adventure playground designed for children of all ages. They will sit on the slide or the swings and talk – about ideas, relationships, families, friends, politics, work, sport, and hopes and dreams. You get the idea. It is at moments like these that one is aware these pupils, secure in the sense of how they will handle themselves and face the challenges and opportunities lying ahead, are ready to step out into a busy, chaotic world. 
Are we protecting innocence? Absolutely. Children are naturally sociable, curious, creative, caring beings. Give them an environment that remains natural, in which these qualities are promoted at every opportunity, and they will be naturally ready to explore and face the reality of the world around and ahead of them.