What makes a good school?
---
by Peter Roberts , Headmaster of The King's School, Canterbury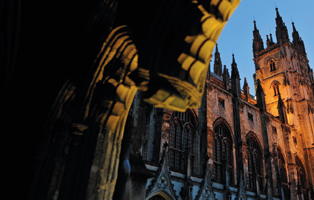 The most significant and long overdue change over the course of my career has been the toppling of the traditional divide between the self-contained institutional views that schools have tended to hold and the opinions and judgements of parents about their children's experiences within those hallowed walls.

That in a modern and dynamic twenty-first century school there should be broad, if not identical, agreement between the teaching staff and the parents about the ethos and aims of the education on offer amounts to a revolution of stance and perception. It is a revolution that is even more refreshing in the way the very best schools' leadership teams take the views and interests of the pupils seriously, anchoring much of the collective enterprise, particularly on the co-curricular side, in the activities and passions of young people. Alongside this the dividing lines between academic subjects have evolved and the range of co-curricular activities has become more diverse. 
This is especially so where these pursuits are relevant to the skill sets that young people will need in their future life. For a full boarding school like King's Canterbury, it stands to reason that the strong sense of community will lend itself to this seemingly modern approach. Equally, as the oldest school in the country and part of the Foundation of Canterbury Cathedral, it has – like many of the nation's most famous institutions – learned to adapt and change, growing stronger over the ages – not set in stone, however beautiful those stones or the aesthetic context of a UNESCO World Heritage site may be! King's has completed many new projects, including the development of a new day house, a new science centre and a performing arts centre on the historic Malthouse site in the city.
A good school is much more than an educational opportunity; it can become a truly nurturing environment, for many akin to a second home. This is particularly relevant to Service parents: operations and postings mean that they are looking for a good school which gives a strong sense of community to all its members, pupils and staff alike. Furthermore a good school encourages and gives support as well as celebrating success. It is then most likely to replicate, albeit in a more public forum, what a good family is able to achieve. The ethos of a good school must also encompass strong partnerships beyond its campus, involving mutually beneficial educational initiatives with state schools and voluntary projects – an outward-looking model based on service. 
 Atmosphere of the school
One of the characteristics that parents should look out for on an open day is the atmosphere in the school. Particular reference should be given to the positivity of teacher-pupil interaction and the friendliness of pupils both to each other and towards visitors. Parents should gauge whether different pupils feel a sense of belonging in an equal way. Do they identify with the school's values, seeing them as helpful and relevant to their lives and their own ideals? Would the school be brave enough to enable its pupils to develop qualities such as inventiveness, creativity and open-mindedness? Does the school say 'yes' to pupil initiatives without falling into the trap of a child-centered pursuit of education? Good senior schools develop young adults into taking responsibility within a carefully laid down framework, one that gives the sense of freedom alluded to above. The Armed Services are renowned for creating close bonds and a sense of community, characteristics that are found in good boarding schools.
High quality pastoral care
For a school like King's which specialises in the pursuit of the highest quality of pastoral care, this theme requires team work, dedication and careful planning by the adults. The results are just as tangible and obvious to the parents as other successes which often grab the headlines. The theme also actively contributes to the happiness of the pupil body, a contagious force in the way a good school works. As a means to judge the effectiveness of a school in achieving these goals, experienced parents listen carefully to their own children's feedback, as well as sounding out existing parents. As in a family, happy children or teenagers are the ones who do best – and feel most valued. 
Co-curricular pursuits
This main thread encourages young people to see school as fun as well as useful. This is a powerful message during the teenage years when behaviours can be reactive, if the adults are too controlling or base their assumptions on their own aspirations rather than a sound understanding of the real needs of the individual child. While many parents readily acknowledge that such principles lead to a well-balanced and healthy upbringing, perhaps not enough see the link with plenty of school time dedicated to co-curricular pursuits, both those which champion development of character (the CCF, the Duke of Edinburgh's Award, and outdoor pursuits spring to mind), and the range of activities which are either directly and indirectly linked to later life skills (the most obvious are in the fields of sports, music and drama).
Lively and interesting adults who passionately believe in this wider view of a good school are likely to be inspiring presences in the classroom. There is ample space within a good school for scholarly teaching in parallel with all pupils believing in the pursuit of academic excellence, but surely it is the overall cultivation of mind, body and spirit that counts for most when we are still young? Particularly so, since the discipline of managing those other recreational, creative and aesthetic pursuits alongside academic studies brings the ability to cope with the pressures that university and a career will ultimately impose.