League tables – just one measure of success
---
by Emma McKendrick, Headmistress of Downe House School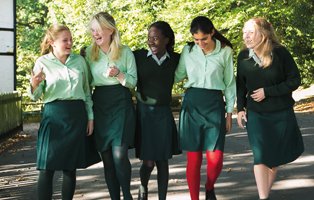 One of the great joys and benefits of a boarding education is the fact that it provides the time and the space to offer a rich array of opportunities which enable young people to grow and develop and explore the person they are. They discover passions and interests, they develop their character and they learn to play a positive part in a community – all things that will help them to lead a happy and fulfilled life. Putting a numerical value on such an education and measuring how well a school delivers its objectives can be challenging, but it is not unreasonable for parents, governments and professional associations to want to see levels of accountability and to assess how a school is performing. 

League tables measure examination performance and, at first sight, it might seem they would and should provide an objective, simple and straightforward measure of academic success. But the first challenge for those constructing and reading league tables is to consider the myriad of qualifications they need to measure and compare. At 18 there are A levels, the Cambridge Pre-U qualification, the International Baccalaureate (IB), as well as a range of valuable vocational qualifications. A similar picture can be found at 16. There are vocational qualifications, GCSEs and IGCSEs.
Several national media and publishing organisations publish league tables each year. Some separate out the qualifications and have a table for schools offering the IB, for example, but for those who do not, there continues to be ongoing debate about whether the grade equivalences across the qualifications are as accurate and fair as they should be. 
When interpreting league tables, it is also important to recognise that the way in which they are constructed can vary from agency to agency and newspaper to newspaper. For example, newspapers are at liberty to choose the criteria upon which they base their performance tables, and close reading of the small print is necessary to ascertain who is doing what. One media outlet may rank schools according to the percentage of pupils who gain three A levels or equivalent at AAB grade; others may use the average number of A-level points gained per candidate, or A-level points per subject. Some publishers may attribute a financial value to each A grade using the school fees charged to cost the grade. Others will try to use some sort of value-added measure, which is widely acknowledged to be fairer. 
The Government league tables for GCSE results have moved towards a value-added system (referred to as Progress 8). There are two points for consideration when interpreting the Government league tables – the value-added measure that is being applied and the fact that IGCSEs are not included. Independent school pupils often do not take the tests that enable a value-added score to be given. As IGCSEs do not qualify for inclusion in these tables, it will be perfectly possible to see very good schools, which were once at the top of a league table, at the bottom. This is a great shame as these qualifications are equally rigorous and challenging, although there has been some recent contention about this, they are well recognised by universities and prepare pupils well for the next stage of their studies. 
Read with caution
Does all this mean that league tables have no value? No, but their value is limited. They must be read with caution and, to have any meaning, their omissions and variances must be well understood. It is also worth noting that a number of very well-known schools have opted out of league tables. At Downe House we took this step when we embarked on offering a mixed economy of Pre-U and A-level qualifications and found that the Pre-U was not recognised by many media organisations in their tables. When looking at examination results, you need to look at five years' worth of data, rather than just one, and consider a school's admissions policy and how selective it is. Highly able students should do well. 
Accepting that league tables have some value, I would still argue that what is far more interesting and relevant for your daughters and sons, especially when they are away from home, is whether a school provides an exciting learning environment, has high aspirations, has high levels of university entry success and supports the development of happy, well-rounded individuals. Do look at the information provided by the school on examination results on the school's website. 
Alongside that, consider the information about where the pupils go next and what sort of courses they embark on at which universities. Consider the information on the lecture programmes, the academic enrichment available and the clubs and societies offered. These are all helpful indicators of the state of the academic health and vibrancy of a school. Inspection reports also provide useful information on the quality of teaching and learning. Above all, take into account the unquantifiable – the character and values of the school and its pupils. These will have the strongest influence on your child's development and they reach far beyond a numerical value.