How do we develop a social conscience in our children?
---
by Titus Mills, Headmaster of Walhampton Prep School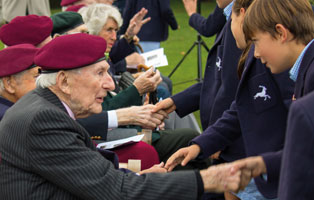 Children in independent schools often lead relatively privileged lives, so one of the more challenging responsibilities of a school is developing a social conscience in its pupils. The teaching of subjects like history, geography and religious studies can broaden a child's understanding of the wider world, but is that sufficient? 

An independent education needs to go much further. Nothing is more important than inspiring children to be genuinely outward-looking, with a passion to serve and support those less fortunate than themselves. This vision needs to sit at the heart of any school's mission statement and it has to be implemented in meaningful and creative ways. 
At Walhampton, we believe our job is not only to ensure our teaching is exemplary, but also to promote the importance of moral, spiritual and social values. This is central to all we are trying to achieve. We regularly take children to visit the residents of Solent Mead Care Home in Lymington. The children play games with the residents and sing or perform for them. Many residents have dementia, so our children develop important and sensitive communication skills. 
Walhampton has also built strong links with World War Two veterans, particularly those who fought at the battle of Arnhem in Holland in 1944. Every year a school group visits the battlefield to meet the last remaining veterans. It is a moving experience to witness a 95 year old, with medals hanging from a blazer place a frail hand on the shoulder of a 10 year old and tell his stories. History comes alive. These are lessons about life that transcend the classroom. Our pupils are always deeply moved. Bonds run very deep – so much so that Walhampton now organises an annual outdoor service in the school grounds for a number of the Arnhem veterans who travel far and wide to attend. 
Walhampton has also built strong links with World War Two veterans
Through both these projects, children develop empathy and understanding of an older generation. 
Pupil exchange 
Our Year 6 children are also involved in a pupil exchange with St Mark's Primary School in Lambeth in London. The children visit each other's schools in both the spring and summer terms. For rural children, to go to a school in an inner-city environment can be an 'eye-opener', just as it can be for the children of St Mark's travelling to the New Forest. The learning goes both ways. But what is heartening is seeing social and cultural barriers broken down, prejudices challenged and energetic and happy 10 year olds discovering common ground. That's what a proper education is all about.
Links with Cambodia
In addition, Walhampton has recently sponsored a school in Cambodia. Through the generosity of our school community, Walhampton raised the funds to build a school for 130 children in Khe Nang in Northeast Cambodia. The children at Walhampton are now committed to raising money every year to fund the school.
Until now there has been no real education provision in Khe Nang, a very remote village near the border with Laos. We are very excited about building strong links between our two communities and a number of staff have recently returned from a first visit to Cambodia. 
Alongside academic excellence, at Walhampton we passionately believe that schools have a responsibility to develop children who are compassionate, kind and keen to serve the community. This vision is integral to the ethos of our school.