A 'digital revolution' in boarding schools
---
by Hugh Ouston , interim Warden of Glenalmond College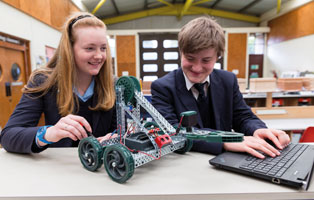 As with most independent boarding schools, digital technology first arrived at Glenalmond in physics classrooms during the 1980s. Endless fascination with simple programs ensued, producing amusing times with controlled lights and beepers. It would be at least 15 years before most school administration systems were computerised and smart technology could be used extensively. Now it has arrived, boarding schools have embraced the digital revolution, with all its pros and cons.

Progression into smart technology has provided many new opportunities for the boarding sector with improved teaching access, and efficiency of communication and pastoral care. On large school campuses, where pupils cover a huge area during the day, it is especially vital for staff to be vigilant and to be able to track the whereabouts of pupils. Paperless registration on SchoolBase (a management information system for schools) at the beginning of every class instantly alerts pastoral staff if a pupil is missing, and immediate action can be taken to locate them. Also, if a pupil forgets to go to an activity such as a music lesson the music teacher can check the pupil's timetable and contact their current tutor. Additionally, individual bar codes allow pupils to put tuck shop and uniform purchases on to their accounts. Some schools operate biometric fingerprint recognition and this technology offers benefits in the efficient management of emergency evacuation.
At Glenalmond, as at many other boarding schools, a Virtual Learning Environment (VLE) is a vital tool for teaching and learning. We use Google Classroom, which has all the features of our old VLE but also provides enhanced features for sharing documents and reviewing pupils' work. It has greatly improved communication within the school and it enables staff to work more collaboratively. Accessed from all digital devices, it provides a platform for teaching and learning and enables pupils to connect to the school network, access lesson plans and submit work. It is especially useful for pupils from abroad – while they are studying at home during the holidays they can continue to access their curriculum. 
Of course, now that all pupils have an email address, this too is a huge part of the communication network. Many boarding pupils receive packages from home and, immediately upon delivery at the school, these are scanned and an automatic email is generated, alerting the recipient of its arrival.
 Attending a British boarding school from abroad no longer means long absence from family contact. With campus-wide WiFi, pupils connect easily to their families through Skype, FaceTime and other social media. Parents can get in touch with teachers more easily and play an increased role in their child's education.
Ever vigilant
 However, the boarding school sector is wholly aware of the added risks posed by digital technology. In such a rapidly evolving world, we must be ever vigilant to new and inventive threats. Boarding schools can, and do, instantly block access to unsuitable websites or operate WiFi access on a time schedule (at Glenalmond it is turned off at
11 pm) to enforce safety and vital rest time. It is recognised that some dangers can only be managed through education. Teaching young minds about the possible pitfalls of social media and inappropriate use of the internet is, we believe, at the core of good digital practice.
Pupils' digital data protection is an increasingly large area of concern for schools and, with the introduction of the strict, Europe-wide, General Data Protection Regulation in 2018, the debate about data storage 'in-house' or on iCloud, rages within the industry.
'Internet of Things' 
Another area of digital interest is the new and exciting 'Internet of Things' which will provide the boarding sector with additional opportunities by the inter-networking of devices and buildings, allowing accurate, remote, control of lighting, heating and door security from an app.
As ever with boarding, it's all about the pupils
As always, the biggest stumbling block for technological progress can be measured in human terms – any process will only function as efficiently as its least efficient component. Just over a year ago Glenalmond's weakest link was the speed and quality of mobile signal. However, the installation of a new 4G mast remedied this and meant that we could access digital services from every corner of the campus, including the playing fields. In the blink of an eye, match scores, images and reports now beam their way from the sports field straight on to the social media platform of choice. 
As ever with boarding, it's all about the pupils. The enthusiasm with which the – relatively new – subject of computer science has been embraced across the sector indicates to me that software development, data exchange and algorithms structure will ensure a whole new breed of digitally-aware and able youngsters set to revolutionise the industry further in years to come. Glenlamond was founded in 1847 by William Gladstone. Behind the historic surface a new 'industrial revolution' is indeed taking place.