Developing thinking skills across the curriculum
---
by Dr Lorraine Earps, Head Teacher of Queen's College, Taunton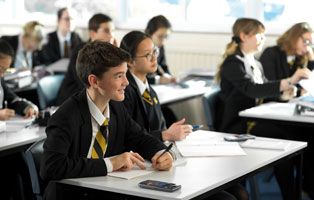 For the first time as educationalists, we are attempting to prepare young people for a future we do not recognise. A pupil moving into Year 7 this year is likely to enter the world of work in around 2030 and continue to work until about 2080 or maybe even longer. 

With the rapidly changing face of our technological landscape, it is difficult to predict what the workplace will look like in five years' time let alone 50 years. How many of the traditional roles will still exist in the world of tomorrow? The predictions being made by futurists are wide and varied but the one thing they all seem to agree upon is that the world of work will look radically different and young people will not be doing the same jobs in the future as their parents and grandparents did in the past.
So how do we go about preparing young people for an uncertain future? We need to ensure we concentrate on the things we know they will need in order to navigate it. For young people to be successful in a rapidly changing, uncertain and unpredictable landscape, they need to be creative-thinking, risk-taking problem-solvers who are resilient and adaptable, and able to take opportunities when they present themselves.  
Cognitive acceleration
The cognitive acceleration methodology was first developed by Philip Adey and Michael Shayer at King's College in London. Adey and Shayer took Piaget's ideas that everyone goes through the same stages of development for thinking from concrete (believing what you can see) through to abstract thought. Their initial work identified that most GCSE examinations required young people to be proficient in abstract thought in order to achieve the highest grades, but an analysis of young people demonstrated that the majority did not become formal abstract thinkers until after they were 16 years old. They realised that for schools to raise the performance of pupils in GCSE examinations, either the exams would have to be 'easier' or the children would have to be 'more clever'.  
Adey and Shayer developed a cognitive acceleration programme which has been demonstrated to raise children from concrete to abstract thinking. This is done through the application of teaching and learning strategies designed to introduce cognitive conflict (something unexpected), discussion and reflection. The programme covers the core subjects of maths, English and science at KS3. Cognitive acceleration has been shown to improve students' reasoning and this underpins their ability in examination subjects. It raises young people's reasoning from concrete to abstract, allowing them to answer more challenging examination questions as well as providing them with the reasoning skills to navigate an exciting but uncertain future. 
At Queen's College we are rolling out an innovative programme to develop pupils' thinking skills across the entire curriculum. This has involved taking the ideas developed by Adey and Shayer in maths, English and science and using the underlying principles to apply to a whole range of different subjects. New materials are being developed which introduce cognitive conflict, group discussion and reflection in order to get pupils to think in all areas. The application of this strategy is just as important on the sports field where young people need to be able to make quick decisions for themselves and so the programme is being applied to all areas of the co-curriculum as well as the curriculum.
Let's Think Forum
To implement the cognitive acceleration programme, we are working with Let's Think Forum – a charity which aims to sustain and develop cognitive acceleration as an approach to developing children's reasoning. Four Let's Think Forum tutors have been working across the school to help teachers adopt the Let's Think approach in specific lessons and to modify aspects of teaching to promote effective thinking. Lessons help to promote intellectual resilience and risk-taking, as it is less about getting the right answer and more about asking the right questions.
We believe this new approach to thinking skills has the potential to help young people have the belief in their own ability to tackle unfamiliar or unexpected situations and therefore give them the confidence to grasp opportunities when they present themselves in the future.