What can financial and educational organisations learn from each other?
---
by Nick Wergan, Nick Wergan, Headteacher of Steyning Grammar School and BSA Chair, 2019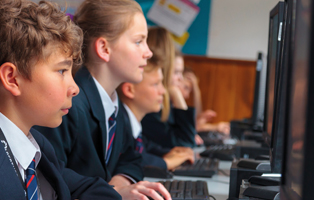 At first glance there seems to be little similarity between the worlds of finance and school leadership. They might both be about investment – the first more literal and the second more holistic – but if we put aside the obvious difference in purpose and outcome, there is much the two sectors can learn from each other with regard to leadership and success. 

Successful teams in industry set clear goals, monitor progress and intervene to ensure the project is delivered. In schools we also need to do precisely this – set out our a clear vision for success for all our pupils, use data meaningfully to identify where students are falling behind, and step in to support them individually. 
In an educational setting data is not just numbers – it is about pupil progress, wellbeing and enrichment, and the rigorous implementation of standards of social care. At Steyning Grammar everything is about our core business – teaching and learning. Our core vision is 'effective learning for every student'. Every development plan in the school is built around this aim – and if it does not deliver this, we question why we are doing it. 
Brave decisions
Schools can also learn from the measured risk-taking in industry – to change outcomes you must be willing to take brave decisions while building on the strengths of your school. An example is the ongoing friction between education and business about the skills students should leave school with. At its worst, business doesn't define what it needs, and schools don't take responsibility for workability skills. At its best, education and business work alongside each other to 'co-produce' their curriculum. 
At Steyning Grammar we have redesigned our curriculum to embed the skills students need to flourish and succeed. We teach growth-mindset, grit, self-control, gratitude, understanding others, curiosity and zest. Our academic curriculum and reporting system develop from these key learning characteristics, identified as crucial to pupils' wellbeing, success as learners and employability. Our teachers, parents and employers all agree that these are the holistic outcomes our school vision should deliver. A leading figure from business is working alongside our leadership team to guide and advise us on how we can work more closely with industry. 
Our success criteria have to be more ambitious than simple school performance tables. Success should be measured by the longer-term outcomes for departing students as young adults, as well as the best exam outcomes possible. In my view, the crude benchmarks of the Department for Education have been unhelpful in raising aspirations and achievement for all pupils, although this is thankfully changing as accountability systems refocus on progress rather than raw attainment. At Steyning Grammar we are proud to have moved into the top 10 per cent of non-selective schools nationally for progress of all students and we have achieved this through our clear focus on effective learning for every pupil in every classroom. 
Business can learn from education
Business can also learn from successful educational leadership. At its worst, the world of education can mirror some of the 'short-termism' of financial institutions, with reactive rather than proactive leadership. At its best, there is much the City can learn from schools. It is vital to build a sustainable, long-term model of success. This requires an investment in the leadership, continuing professional development of every member of the team, a sharing of best practice, and a determination to improve, built on confident self-evaluation rather than any fear-based model. Schools need to invest significantly in leadership development training, creating pathways of leadership courses that support colleagues in successfully planning and implementing the school vision. 
Every Steyning teacher is a member of a 'Professional Learning Community', engaged in action research to further develop their teaching 'craft'. Aim 1 in our school development plan is 'effective learning for every student'. To deliver this, aims 2 and 3 are 'high quality professional development' and 'effective leadership at all levels'. We have to prepare our pupils for their futures, not our pasts – to do this we need to invest heavily in the skills and in the distributive leadership capacity of our teams. This provides sustainability to the delivery of the school vision, and real leverage for its implementation. 
Bill Gates wrote that 'leaders will be those who empower others' and Steve Jobs declared 'innovation distinguishes between a leader and a follower'. Sharing the best practice between education and industry enables us to empower and innovate – both key to sustainable school improvement.