Boarding as a preparation for twenty-first century life
---
by Dr Michael Alderson, Warden of Glenalmond College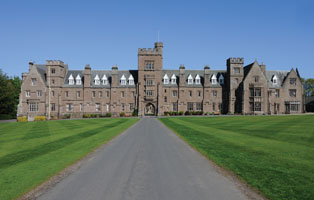 Mediaeval libraries, buildings by Vanbrugh, world-class concert halls and theatres, martyrs' relics, priceless artwork, winter ski resorts, or even a famous adventurer's lifeboat – throughout my career, I have visited fantastic boarding schools here in the UK, as well as around the world, and in each case, I have been astonished by the beauty, opportunity and stimulation that boarding schools can offer. Such facilities doubtlessly enhance, but the questions I ask as an inspector are 'So what? What is the outcome for pupils?'. 

Innovation is defined as the development of new products, designs, or ideas, but perhaps the greatest innovation of the boarding school lies not in its fabric but rather in that which we have always sought to do – the development of individual children and young people. 
While it appears a truism that each generation proposes that the world has never known such an era as its own, our pupils today clearly need to be prepared to interpret, synthesise and evaluate a vast world of information, and to do so with integrity. It is precisely here where boarding schools lead the world of education.
To achieve this aim, schools have a responsibility to live, model and challenge our staff and pupils to understand and embody the values which define our communities.
But how do we do this? First, we offer an education based on values. The Ofsted framework identifies the development of character as a key aspect of education, defining it as positive traits, dispositions and virtues that inform motivation and guide conduct. To achieve this aim, schools have a responsibility to live, model and challenge our staff and pupils to understand and embody the values which define our communities. Outstanding academic results and virtuoso performances in the concert hall or on the sports pitch are by-products of shaping decent individuals who have the courage and confidence to stand by what they believe. 
Making a contribution
Secondly, we dare to trust our pupils every day. Responsibilities remain a cornerstone of boarding school life from the dorm prefect, captain of hockey, to the head of school. Making a contribution to and providing leadership of the school's community is simply part of our educational DNA, and a quick LinkedIn study of former heads of houses and schools shows the lasting professional benefits that such positions grant. 
Correlation is not causation but boarding can rightly take some credit, and these skills manifest themselves repeatedly in an ability to work creatively and independently. At Glenalmond, our Leadership Challenge requires pupils to work together in very testing conditions but equally demands they face the consequences of their choices, some for the first time. 
Expeditions provided by organisations such as World Challenge are certainly life-changing, but we must also demand that pupils engage with the world immediately beyond their school gates. Earlier this year, our pupils were able to pass on skills they had learned over a number of years to local primary school pupils in the Glenalmond 1847 event which saw them compete in 18 challenges in 47 hours. 
The reward of sharing such knowledge was clear and testified to how giving pupils the opportunity and responsibility to share their privilege and talents can enhance their own and others' education. Excellence, Aristotle suggested, is not an act but a habit – perhaps this is also true of leadership?
Space to be
Thirdly, we give pupils the space to be. Schools today are welcoming and cross-cultural communities, and wellbeing is rightly high on the agenda. As a visitor, it is easy to be dazzled by the latest 6G pitch or fingerprint entry technology, but the schools that succeed are those which work hard to build, maintain and cherish community, both among pupils and between pupils and staff. This may sometimes require bold decisions such as restricting access to mobile phones and social media – not only because this could help academic attainment but also to improve social interaction and focus, and to help pupils engage with others. At the same time, we need to teach how technology can be used as a tool to access that ever-increasing body of knowledge on the information superhighway. These valuable lessons, which are at the heart of the Glenalmond Learning Project, create an education that will last a lifetime. 
Innovation, therefore, has to offer the soft skills with the hard knowledge we have always taught so that pupils may identify connections, interact intelligently with others, and respond with agility in our ever-changing world.