Boarding – a community based on respect, responsibility and relationships
---
by Ann Jackson , Deputy Head (Pastoral) of Dauntsey's School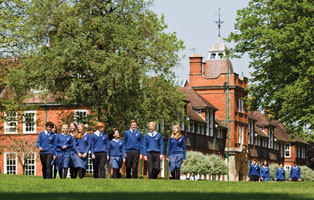 Moving to a boarding environment means joining a tight-knit and supportive community. In a boarding community pupils not only gain a great deal but also make an important contribution. This community is founded on respect, responsibility and relationships.

Respect means understanding that people have different personalities, skills and talents.  Respecting others as well as yourself creates a tolerant and flexible community.
Responsibility means not only taking ownership of your own decisions and actions but also looking out for others around you. It's not about apportioning blame but admitting to your mistakes and taking time to ask whether a friend or classmate is OK.
Relationships help us understand ourselves and others better. When pupils start at Dauntsey's, the emphasis during the early weeks is on making friends. To help, we offer a wide range of adventure and house-based activities, as well as numerous clubs and societies, with opportunities woven into the school day. There is something for everyone, from sport, drama and music to sailing, Mandarin or model railways. While everyone is, understandably, a little nervous when they start a new school, getting involved from day one allows them to discover where their talents lie, to meet like-minded people and build their self-confidence.  
At the heart of a boarding school community is the House system, which creates a feeling of belonging and collective responsibility. The boarding house is a place where young people feel secure, where mistakes can be made and learnt from. Boarding can help people accept differences and learn how to compromise within a group who will be friends for life. It's also a step towards independence and a chance to take an increasing responsibility for oneself and others in a safe and protected environment. 
The network of care and support for pupils extends to every corner of the school, beyond the boarding house, from the teaching staff to the nurses and counsellors in the medical centre, from the chaplain to the domestic staff. So, for example, a caterer might notice that a pupil isn't eating as well as usual, a sports master might remark that a pupil is suddenly behaving with more aggression, a housemistress might see that a normally lively pupil is listless and tired, a parent might suggest that their child seems unusually stressed. This information should be shared to ensure that any issues can be aired and problems dealt with before they escalate.
Buddy system
To help children settle in, at Dauntsey's we run a buddy system for newcomers, along with mentoring and peer counselling programmes. These make it easy for newcomers to integrate and for anyone in need of advice to find it in the student body, as well as from staff.  For example, older pupils can help younger ones recognise the pitfalls of social media, or show them how to deal with exam stress. Such advice is often much more powerful than similar input from a teacher – or parent!
But parents do play a crucial role. In loco parentis doesn't mean replacing a pupil's parents – it means representing them and working alongside them. The more closely the school can work with parents, the more it can know and understand the pupils and therefore the more perceptive staff will be when there are changes in behaviour or mood. 
However, even with the very best pastoral care in place, nowhere is immune from what's happening in society as a whole. If anxiety and stress are issues in the wider world, it's reasonable to expect that they will be present at school. For example, body image increasingly affects both boys and girls, who are all under the spotlight of social media.
I find that the pupils themselves are a great help: they know what the trends are within their peer group and can sometimes spot potential problems more quickly than staff. The key is to be proactive. Throughout their time with us here, pupils can informally explore and discuss what is happening around, and to, them in a safe environment through our complementary curriculum and PSHE (personal, social and health education) programmes, as well as hearing from visiting speakers.
Building self-esteem and developing character
To build self-esteem, pupils are encouraged to make the most of the many wonderful opportunities that are offered to them. Sport and adventure promote resilience; drama, dance, art and music feed creativity; trips and visits set the world of school in a broader context. Importantly, all these activities build confidence, develop character and can promote the relationship between hard work and great results. We aim to equip our pupils with lessons for life, not simply lessons. Pupils need to learn about themselves and their strengths and weaknesses. They should not be afraid of taking risks in case of failure but should value every experience for what it teaches them about themselves and others.
But we also have to expect the unexpected, because life is always unpredictable. It is equally important to be aware that the wealth of choice can itself become a pressure and that growing young people can take on too much. This is about striking a balance between care and personal development.  
Our aim is to guide and support every pupil so that when they walk out of the school gates for the last time, they look back with many happy memories and few regrets. In the end it is about equipping children and young people with the tools to leave us as happy, secure young adults who are ready to take their place in the world