Why board at a country prep school?
---
by Adrian Brown, Head of Orwell Park School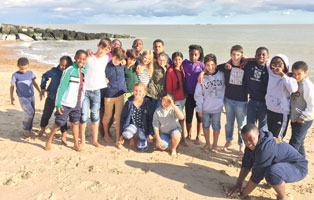 Country prep schools offering boarding provide excellent preparation for senior school, but also for adult life. Our pupils can live and learn, and make mistakes, in a safe environment before transferring these skills to the next stage of their education.

Parents will be pleasantly surprised to see for themselves what today's boarding schools are like: modern in outlook, flexible in the number of nights children board and above all, popular with the pupils who attend them.
At Orwell Park, as in many prep schools, we have a hybrid model of boarding that really works. Day pupils co-exist happily with flexi boarders, weekly boarders and a strong community of full boarders. The number of full boarders is increasing, with a mix of pupils living within one hour or so from the school, some living in London, some from military families and some from overseas. Day pupils benefit from the range of activities available in a boarding school, but many choose to board, usually on a flexi basis at first, even when they live very locally. 
So why board? Many of our pupils develop friendships that last a lifetime. What could be better than spending time with friends engaged in a range of sporting, musical and artistic pursuits? As well as just having fun outside in a beautiful setting, where it is safe to play and where children can enjoy the innocence of childhood, while learning key skills that will prepare them for the next stage of their education and for future life. 
Most boarding schools limit screen time during free time in the evenings and weekends. Devices are looked after by boarding staff apart from at specified times. At Orwell Park each pupil in Years 3 to 8 has an iPad for use in the classroom, but boarders hand them in at the end of the day after prep (homework) and the iPads (and the children) are given the chance to recharge for the next day.
At Orwell Park, as in many prep schools, we have a hybrid model of boarding that really works
For some children the school is their home during term time and modern prep boarding schools replicate the home environment. There are comfortable and cosy dorms, relaxing and welcoming common rooms and very much a family atmosphere, with excellent pastoral care provided by the boarding teams of matrons and houseparents. Boarders' time is balanced between a clear structure and routine and free time for them to manage by themselves. In the evenings there are activities and there is a programme of trips and visits at the weekend. 
Important life skills
Boarding teaches important life skills, such as independence, organisation, tolerance and compromise. Children who board learn that they will not get on all the time with everyone and that they need to accept others for who they are; they learn how to live as a community. Boarders are expected to get themselves up in the morning, sort out their clothes for laundry, keep their dorms tidy and manage their time up to a point. This extends to doing their prep independently and making a decision to study or do music practice during their free time, all of which helps them to prepare for the next stage.
One of the great advantages of a 13+ prep school is that children have key leadership opportunities, which they take on when they are old enough to appreciate the responsibility. At Orwell Park this includes prefects, sub-prefects, house captains, assistant house captains and peer listeners. Boarding lends itself to the development of leadership skills in the shape of head boarders and dorm captains, who set an example to the younger pupils. A great success story at Orwell was a boy from a military family, who joined in Year 3 as a full boarder and who developed the skills and qualities to become Head Boy in Year 8.